My kids love Subway Sandwich so much.... Just because, as they can add any thing they like in it likes olives, onions, Jalepenos, corn, tomatoes etc..., and can choose the bread they like, I was planning to bake some Khara bun that day, and the bread was in its processing state.., as my kids were talking about Sandwiches I decided to change this recipe into subway rolls and made Indianised subway sandwich !! for a change.
My memory always goes back to those days I would love to eat a Khara Bun on a rainy day with a hot cup of tea/coffee. My mind always revolves around those flavours which I so love... so why not give this a go ?.
I exactly made 4 big ones don't laugh looking at those rolls as they were too big, that was one hearty meal of the day for my kids and they so enjoyed it. One wonderful Sandwich and also they had a fantastic smoothie which was the next thing they had a go at which I will post soon, That was one complete brunch . They relished it so much and I was a very happy mum.
Their is no step wise photos for making these rolls, as I was planning not to take any photos, as I keep making these Khara (spicy) buns and I already have drafts of them which haven't seen the day yet!!. well, anyways this is how the recipe goes..
SUBWAY SANDWICH - INDIANISED
INGREDIENTS:
450 (50 gms etc.., for kneading ) grms All Purpose Flour
2 1/2 tsp Fast action yeast
1and 1/2 tsp sugar
1and 1/2 tsp salt
2 tbsp of Oil
2 tbsp of fresh Herbs ( coriander, dill )
1 and 1/4 Cup water
METHOD:
In a large bowl add yeast with 1 or 2 tbsp of luke warm water with sugar and leave it in a warm place for few minutes, within few minutes you will start noticing bubbles in it, add oil freshly chopped herbs and salt then add the flour mix well.
Now start adding water until a nice soft dough is formed, knead the dough for 10 minutes with the help of extra flour just for dusting your hands, do not keep adding too much flour, when you are kneading the gluten in the flour stretches and even if the dough is a bit sticky it totally disappears, yeast is such a lovely product, it is not a problem at all to work with it.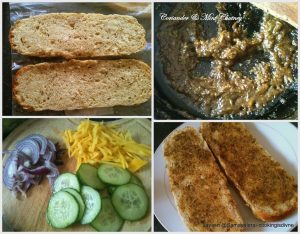 Oil the bowl place the dough in it and cover it with a cling film and leave it in a warm place until the dough is double in size it might take 1 and 1/2 to 2 hours depending on the outside temperature.
Once raised punch it down and release the gas then knead it softly handle it like a flower!!, then shape them into desired shapes, as I was planning to make subway rolls I rolled into 4 long rolls and placed them each between grease proof papers in a large tray then covered them with a tea towel.
Leave the shaped rolls for a second rising for an other half an hour
Meanwhile preheat the oven to Gas Mark 6 spray some water inside the oven carefully not to touch the bulb or on the gas ( even if you don't do this the bread will still bake not to worry).
Place a oven proof bowl with warm water underneath, after 1/2 an hour decrease the oven temperature to Gas Mark 4 and place the tray inside the oven giving it a milk wash ( or you can use egg wash ) and bake for 25 to 30 minutes depending upon the way your oven works or after 25 minutes insert a skewer and check if it is baked, if not leave it for an other 5 to 10 minutes assessing the baking of the bread roll.
Once done, immediately remove them from the oven and place them on a wiring rack after 5 minutes or so remove them from the tray and place them directly on the wiring rack so that that they cool down , otherwise they become soggy underneath.
That's it your rolls are ready now.
Now to Assemble the sandwich you need to keep some ingredients ready.
Make Coriander and Mint Chutney:
1/2 Cucumber ( thinly sliced )
2 carrots grated
1 small Mango ( thinly sliced )
2 small Red onions
2 Tomatoes
1/2 Cup Fresh Roasted sweet corn kernels
Cheese as needed
Slice the rolls in half, apply chutney on both the sides then start placing the veggies one by one of your choice, I placed Mango then cucumber, onions, tomatoes and sweet corn kernels then cheese on top of it close the other half on it and grill them on a panini grill or a sandwich maker for 3 to 4 minutes according to your gadget , Ooohh..., that's it job done, cut them in half place them on a plate and serve it.
Do you like my subway treat if so do tell me.....
Checkout my other sandwich recipe which was amazing here
Make it vegan, using vegan cheese or just omit it :))
Sorry friends was not able to respond to your comments immediately as I was down with Migraine,
Sending this to
1. Kalyani's Healthy Sanwich Diet : Sandwiches, started by priya's Healthy diet event
2. Priya's Celebrate Olympic games started by Jagruthi of cooking odyssey
3. Kalyani's WTML event started by Gayatri of Gayatri's cook spot
4. Sayantani of Home maker's Dairy hosting JCO's - Monsoon of India
5. This Sandwich is also yeastspotted
6. Let's cook breads # 17 of Radhika's
7. Kid's delight evening snacks of co-hosted by vardhini initially started by srivalli
8. Sandwich recipes of Dr.Sameena