Do you love pizza, you mean to say who doesn't, especially kids.., I do make my own pizza base always, My kids like it too.., as each of them like their own toppings, I always make the base and leave the topping and baking to them, they so much enjoy all the three with their Dad decide what they need on their pizza base. They also decide on how much cheese each one decides too.., I am not a big fan of cheese I love to cheese only with pizza and my other one is cauliflower cheese.
Stromboli is basically a flat bread or you can use pizza dough flatten it into a square shape and top them with your choice of pizza toppings and of course lots of cheese :)). Roll it into log like shape and bake it. slice them and enjoy..., This I could call a picnic bread, slice them serve it with some green salad and some delicious dressing.
I made this when my kids came back from school, they just loved it....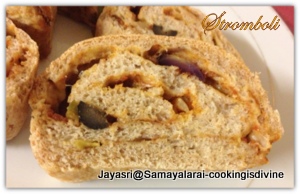 FOR THE PIZZA BASE BREAD:
200 grms Strong white Bread flour
200 grms Whole meal Bread flour
2 tsp dried yeast ( 7 grms Yeast)
1 tsp Sugar
1 tbsp Olive Oil
1 tsp Salt
240 ml warm Water
5 to 6 Sun dried Tomatoes
3 Tomatoes Medium size or 340 grms of chopped tinned tomatoes
4 tbsp Tomato Puree
1 tbsp Italian Herbs
1/2 tbsp Ginger
3 - Garlic cloves
1 Onion
3 tbsp of Olive oil
1 tbsp of Sugar
1 tsp Salt
1/2 tbsp Pepper powder
few leaves of fresh Basil
** Use spices according to your taste. When it is cooking taste and adjust the seasoning to your liking.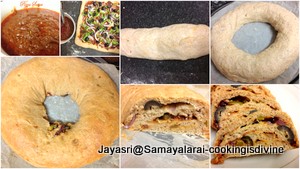 METHOD:
In a large bowl take yeast with 2 to 3 tbsp of warm water and sugar and leave it for few minutes, you can see the bubble forming up that means your yeast is active, to this add all the other Ingredients for the dough, mix it with warm water. until a dough is formed.
Remove this dough on to a floured surface and knead for 10 minutes by hand or in a mixer with dough hook attached.
Transfer it into a oiled bowl, cover it with a cling film and prove it until it is double in size.
When it is proving let us make our pizza sauce.
First of all grind Ginger, Garlic, chopped sundried tomatoes and onion into a fine paste.
In a Kadai / Pan heat Olive oil, to this add the ground paste and saute until it gives out oil, then add chopped tomatoes, tomatoes puree , sugar, salt and pepper powder. Mash them all well with a masher
Once the sauce starts boiling add Italian herbs and chopped or torn fresh Basil.
Taste and adjust your seasonings cook until well done and all the raw smell disappears. remove it onto a bowl and keep aside until you need it.
Make the sauce a bit thicker than usual more like a paste.
Preheat oven to 190 degree / 170 degree fan / Gas mark 5
Punch t,he risen dough, flatten it into a square shape on a lightly floured surface. spread the pizza sauce leaving all around the square, now top it with onions, Kalamatta onions, green peppers any other vegetable you prefer to use, grate some Mozzarella and some parmesan cheese.
Now Roll the dough from the longer side like a swiss roll, glaze the top of the stromboli with milk wash
Bake this in the preheated oven for around 30 minutes, until the crust is golden brown.
Once done remove it onto a wiring rack, once it is cool slice them into pieces serve it with tomato ketchup or with some salad leaves.
This stromboli goes to
Champa's Bake-a-thon
event. check out Priya, srivalli, preethi, veena and sumana for their baking spree recipes.., Oh! don't forget to visit Champa she always brings out something special in her kitchen....
Enjoy all the lovely bakes from our ladies.....