Hi, I am eating pulkas from past two days, I ate chapatis and Bendakaayi gojju, next was with beans poriyal, and then I saw these Avocado lying staring at me!!, you use me or I will bin myself kind of look!!, I was appalled, I dreaded the look of my hubby too!!, He is always on to me, asking why do buy so many fruits if you just want to bin them, leave them alone in the market !!, well, this time I decided I will not bin them and remembered Usha of Veginspirations, who had made this Avocado chappatis, yup!!, that's what I am going to do, only I tweaked it a little bit, I used tomatoes with Avocados and made pulkhas and not chappatis!!, and inspired by Raji of Rak's Kitchen for these stir fried veggies!!, I have never used Indian masala spice, that is south Indian like what raji had done with her stir-fried Broccoli using sambhar powder, well I took that as hint but used my Masala vegetable rice powder somewhere near to vaangi bhath powder, and then I made caramalised onions like parita of parita's world !! and I immensly enjoyed the whole thing just meself!!
So then what did I do !!??, not really much, as I said earlier I used Tomatoes with Avocado for my pulkhas (as I thought those 2 tomatoes will go a waste!!), Used Masala vegetable rice powder for the stir-fry, and caramalised onions like parita did to her stir-fry.
STIR-FRIED VEGETABLES WITH AVOCADO PULKAS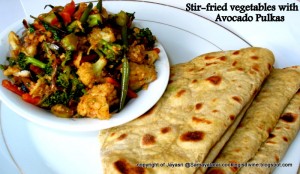 1 Avocado medium sized
2 tomatoes
1/4 cup water
1 tsp salt
2 to 2 and 1/2 cups of Atta flour (depending of how much you need to make it into dough consistency).
Cut the Avocado into two halves remove the seed and scoop out the fruity portion into a bowl, then finely chop the tomatoes and mash them well in a mixer. you can mash the Avocado into a fine mash just with the back of your spoon easily, I used the mixie because of the tomatoes.
Add this to the bowl containing water, salt, and mix atta flour to it gradually and form it into a soft dough that is just like a chapati dough.
Taking a small round ball from the dough flatten them into a circle with the help of rolling pin and roast them on both the sides, only just about to form little bubbles, then with the help of a clean kitchen cloth you can keep turning them and make them blow up like a poori, without pressing them too hard, just keep pressing them noticing where it puffs up, you can put it on the stove top and flip it now and then and cook it. I will post this on how to make pulkas in my next post, or if you want you can make chapatis with a three fold and cook it with the help of ghee or oil as you like.
VARIATIONS
: You can add a tsp of cumin, coriander and chilli powder and Thyme seeds, I did not add anything as my curry was quite spicy!!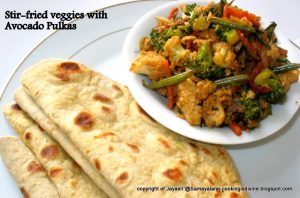 INGREDIENTS:
1/4 kg green beans
1 cup Cauliflower florets
1 cup Broccoli florets
1 carrot
1 Big Red onion
2 garlic pods
1 sprig curry leaves
2 sprigs of fresh coriander leaves
2 tbsp of Masala powder
salt as required
2 tbsp sugar
3 tbsp grated fresh coconut
2 tbsp oil
1 tsp Mustard seeds
1 tsp cumin seeds
2 tbsp Channa dal
1 tbsp Urad dal
2 tbsp Coriander seeds
2-2 Guntur-Badgi Dried Red chillies
1 small piece of Tamarind
1'' cinnamon stick
1 clove
1 Marti Moggu
a pinch of Asafoetida
TO MAKE THE MASALA POWDER
with a tsp of oil fry all the above ingredients one by one until they change colour and a nice aroma fills the air, cool it and grind it to a fine coarse powder. Use this powder as much spiciness as you require to your curry, and increase or decrease the amount of chillies as per your liking.
Cook broccoli and cauliflower florets in a separate water for few minutes with little salt and turmeric, once cooked drain out and discard the water. (other wise you can cook broccoli in the wok with other vegetables in a low flame, by sprinkling water, but do not keep on stirring them too much as it tends to become mushy)
In a wok add 2 tbsp of oil and heat once it is warm add a tsp of mustard seeds and cumin seeds once they start spluttering, add the washed and cut vegetables (carrot and beans) and cook them in a low flame, Once they are well cooked add the florets mix well add salt and the Masala powder as required then the fresh coconut and mix them well.
top it with caramalised onions.
TO CARAMALISE THE ONIONS : Chop the onion finely (cut into half and chop them length wise, just that it looks good 🙂 ), in a tsp of oil fry them until they are soft then add a 2 tbp of sugar and keep frying them for another 2 minutes, until they change colour to a golden brown, Lo!, your caramalised onions are ready!!
I am sending this of to Nupur of
one hot stove's
, copy cat edition, last time I missed sending my entry, I cook a lot from other blogs!!