Hi all, Had to come back quick and fast, A quick post as it is only a day to go.., I still have two more post hope to do it by tomorrow night!, If every thing goes well :))
This one is Paruppu (Dal) Urundai (Balls) means Dals made into balls and steam cooked, I feel this is a very a nutritious and definitely a healthy dish when compared to lot of fried goodies we love to make out of Dals, Here these Dal Dumplings can be made by any Dal, and sometimes you can add veggies to it and enjoy it as a wonderful snack, or a breakfast with a nice spicy chutney.
When I bought a Banana Blossom flower, I started searching something new which I want to try out, as rarely I get to buy this vegetable, and when I saw this in
priya's
blog, I knew what I was going to do for T and T started by
Zlamushka
, now taken care of by
Lakshmi
and Guest hosted by
Nivedita
, is a wonderful event, which I love to participate, as the bloggers are recognised are Tried and tested and bring them out into lime light, and I think this is a wonderful event which is like a crowning glory for all the lovely bloggers out there.
Coming back to the recipe, the method is simple, Interesting and delicious. You can do lot of variations too.., It is left to your Imagination.
I tweaked this recipe a little bit, as I had not used Toor dal from 3 to 4 days, I decided I will add 1/2 and 1/2 of both the dals. The original recipe is here you can check in priya's blog.
BANANA FLOWER BLOSSOM DUMPLINGS/VAZHAPOO PARUPPU URUNDAI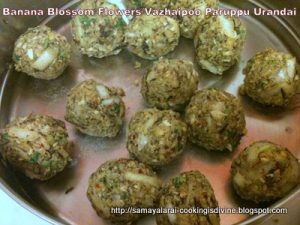 INGREDIENTS:
1 Cup Banana Blossom/Flowers
1/2 cup Channa Dal
1/2 Cup Tuvar Dal
1 tsp Fennel
1'' fresh Ginger
3 to 4 Green chillies
2 Garlic pods (optional)
1 Big size Onion
A few curry leaves
A few coriander leaves
Salt as required
METHOD:
Wash and soak the both the Dals for around 2 hours, Then drain them grind them coarsely with green chilles, Ginger, garlic and Fennel, To this add chopped coriander, curry leaves and chopped banana Flowers, mix them well, Make it into small balls and pressure cook them for 10 minutes like how you make Idlies, No weight on the pressure cooker.
These Dumplings I have used to make this Paruppu Urandai Rasam.
Thanks priya for both these dishes.