When
Priya
announced Sprouted, I was so into this and wanted to participate, as I love sprouting, it makes me feel I am growing something.
Horse gram is something I like using in making Rasams and dry curries which I learnt from my mom, well I have never posted them have I ?, Gosh!, Let's forget about it, and get to this sprouting!, Looks Gorgeous isn't it ?, Getting back to the recipe, This was not something I had planned to make, but the time being a priority in my life way too much, I just had to decide something quick, simple and delicious.
SPROUTED HORSE GRAM AND CABBAGE STIR - FRY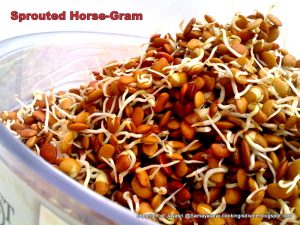 I sprout them in my Sprout maker, which I bought it in India, Its not expensive but a fantastic piece of equipments which doesn't need any old methods making your sprouting a lovely, easy and not tedious experience!!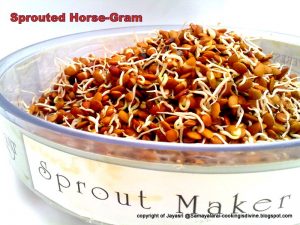 Take a closer look at my sprouted Horse gram isn't it beautiful?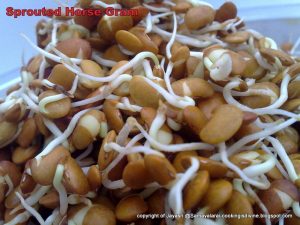 Here's what I made out of the Sprouted Horse gram and this was a simple stir-fry or Dry curry, delicious with nice warm Rasam/Sambhar with hot Rice and a tsp of Ghee!, or with chapatis.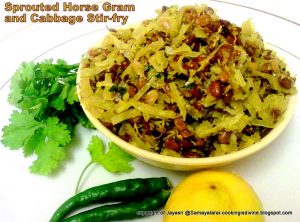 Here is the Recipe:
1 Cup Sprouted Horse Gram
300/400gms of Cabbage
2 sprigs of curry leaf
4 to 5 tbsp of Freshly grated Coconut
Half a Lemon/Lime
few sprigs of Coriander leaves
A pinch of Asafoetida
2 tbsp of Oil
1 tsp of mustard seeds
1 tbsp of channa dal
1 tbsp of Urad dal
4 to 5 Green chillies
A pinch of turmeric powder
First of cook the sprouted Horse gram in a pressure cooker till one whistle, with 1 Cup of water, Meanwhile when it is cooking chop the cabbage finely.
Take a wok, Heat oil, once it is hot add all the Ingredients under seasoning one by one, Mustard splutters, the dals change colour, adding Green chillies and turmeric colours the oil.
Then add the finely chopped cabbage and Curry leaves and pinch of Asafoetida (When you cut the cabbage just soak them in water or just dip a handful of cabbage and take them out draining all the water, you must be wondering why I telling you all this, or I don remember if I have told you before, it's just that do not add too much water to cabbage but just sprinkle or one dip in the water, drain and into the wok, in a low flame cooks the cabbage perfectly well).
Mix well and close the lid and allow it to cook, at the same time, when the cooker cools drain the water from the cooked Horse gram (do not throw away the water, this water can be added to the Rasam or Sambhar if you are making to go with this dry curry), add it to the wok, mix well again and allow the cabbage to cook well.
Once the veggies are done well, and the required amount of salt and allow it on the stove for a few more minutes so all the water evaporates.
Then add washed and finely chopped Cilantro/Coriander leaves and fresh coconut mix well and now it is ready to serve.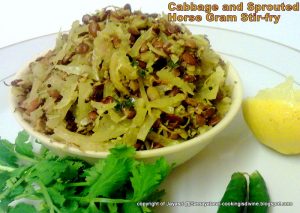 Take a go on this, try it out and tell me how much you like it.
I would like to write a few things about
Horse-gram
which I have gathered from Googling/Ayurveda and our Ancestors
Horse gram is scientifically called Macrotyloma uniflorum, Fabaceae.
Horse Gram is called :
Kulith in Marati, Huruli in Kannada, Kollu in Tamil, Ulavalu in Telagu, Muthira in Malyalam.
Energy : 321
Moisture (gms) 12
Protein (gms) 22
Fat (gms) 0
Mineral(gms) 3
Fibre (gms) 5
Carbohydrates(gms) 57
Calcium (mg) 287
Phosphorous (mg) 311
Iron (mg) 7
collected from various sources in Google
They say that Horsegram helps in weight loss, in Ayurveda they say that it has Vata properties that is why it helps in reducing phlegm, helps in cold, cough, body pain and tiredness. They say it helps in purifying blood so it helps in period realated problems in women, As it is fed to cattle/Horse, that is why they say they keep themselves very strong. That is why it is good to use kollu in winter so it keeps the metabolism of our body warm during the cold temperatures. They also say that it helps in removing kidney stones.
They say it should not be consumed by pregnant women, as they say it produces too much heat in the body.
As I am not a doctor, I might not have given correct information on the subject, please do consult a good doctor, for more uses and benefits from this gram.
I am sending this to Priya's sprouted event, hope she accepts my entry and she likes it!