It's a real lush to see green gram in this form isn't it ? you can eat it just like that which is of course as you all know is highly nutritious, I always told my friends and cousins when ever they conceived to make & eat this salad daily at least once in a day, as we know pulses and lentils are rich in proteins, I do make this quite often but never thought of posting it, sometimes mind goes blank, my daughter took these photos and urged me to post it in my blog !, eating sprouted dals is so good for health, at least must try to eat them once in a week.
This can be done in two ways if you like eating it just like that without cooking it is also fine or you can cook it for a very few minutes in a microwave or in a pressure cooker and put it off within 5 minutes or like i do, Take a wok and fill it with a glass or two of water then take a wide mouthed vessel place it in the wok sprinkle little water to the sprouted green grams and close the lid and cook it in a slow flame within few minutes it cooks well, The thing is if you cook them for too long it gets mashed up, so you should be careful when cooking just how you cook green gram dal when making sundal.
SPROUTED GREEN GRAM SALAD






Ingredients:
1 cup of sprouted green gram
1 medium sized carrot
1 big onion
1/2 white radish (mooli)
2 Tomatoes
1/2 cucumber
salt as required
3 to 4 green chillies
1 tbsp oil
1 tsp mustard seeds
finely chopped fresh coriander leaves
METHOD:
Soak green gram for 8 to 12 hours or over night then drain out the water and tie it in a thin muslin cloth or if you have a sprout maker you can use it and get the sprouts as I have done, it was convenient and easy.
Wash & sieve the skin of carrots, radish & cucumber.
Grate carrots & radish
Chop cucumber into thin pieces like you do it for Kosumbari
Take a wok heat oil & add mustard seeds after it splutters add green chillies and fry them for a minute then add the cooked sprouted green gram mix well and put off the stove
Then mix all the other ingredients together with required amount of salt and garnish with coriander leaves and serve
You can add some mixture to it like Bhel and you can serve like this
ALTERNATIVE METHOD:
Just mix the sprouted green gram uncooked with all the other ingredients with required quantity of salt and a little bit 1/4 or 1/2 tsp of pepper powder according to taste, garnish with coriander leaves and serve it.
You can mix fresh grated coconut to it which makes it much nice
You can add chili powder instead of pepper powder mixed with little oil
It is totally your own imagination serve it however you like!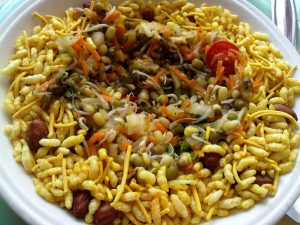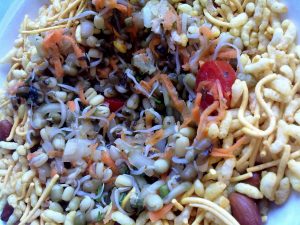 I would like to repost this and send it to
My Event Annoucement
by Radhika &
cook like a Bong
by sudeshna for the Food for 7 stages of Life. You can make this salad and eat them everyday minus the mixture stuff everyday.