My kids love pasta, sphagetti's so much some time it makes life more easier, when I have to rush these are the most convenient dishes you can prepare, which they like to plunge into with cheese, I am not really a big fan of these but I can manage if there is nothing to eat or once in a while!!, Love to eat everything spicy, it is my comfort when it comes to food, when you have sauces ready in the fridge you can make these any time, I have been planning to post these from quite sometime but never had time to do it as always, so with hubby at home and cooking for us all I have lot of time at hand to contribute to my lovely blog!!, some dishes which are still in the draft mode, lying in my lists….
I got this pesto recipe from a vegan book by Nicola graimes
let me come to my lovely spirali and home made pesto recipe here how it goes….
SPIRALI WITH HOME MADE PESTO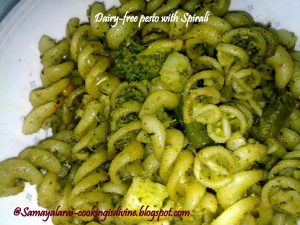 25g/1 oz fresh Basil leaves

10g/1/4oz mint leaves

2 large gralic cloves

15 ml/ 1 tbsp Dijon mustard powder

25 g/ 1oz / 1/4 cup pine nuts

60ml/4 tbsp extra virgin Olive oil

juice of 1/2 Lemon
METHOD:
To make the pesto, puree the basil, mint, garlic, mustard, pine nuts, oil and lemon juice in a food processor or blender. To a smooth paste like consistency and set aside.
3 medium sized potatoes

3/4 th cup green beans

3/4 th cup broccoli florets

4 cups of dried spirali pasta

2 medium sized Tomatoes

25 gms/ 1/4 cup pine nuts toasted

salt as required

ground black pepper as required
METHOD:
Cook the potates in a pan with salted water, until it is just tender, peel the skin and cut into small cubes
Cut the green beans into 2" pieces and broccolis into florets and stem cook them just till tender
Cook the spirali in a large pan of salted boiling water with a tbsp of oil so that they doesn't stick together until they are soft and tender, when draining reserve around 3/4th cup of the cooking water and keep aside.
Drain and add a tbsp of oil and mix them toegther so they don't stick together
Take a large pan or wok and return this pasta and reserved water to the pan, then add the precooked potatoes, beans, broccoli, pesto and stir until combined.
Heat over a gentle heat for few minutes.
In a pan take 2 tbsp of oil, stir in the chopped tomates and fry them till tender then season it with salt and pepper and add this to the spiralli mixture and combine well
Until the pasta becomes a little dry and serve sprinkled with toasted pine nuts.
Rating: from my kids and friends who joined me that day was EXCELLENT
try it out you will love it, even I liked it!!!!!!