Hi everybody, A lovely Pasta dish I tried from this blog called
''Searching for Spice''.
It's been a long time back, I was with these group of
T and C
, This blogger pairs us with one of the blogs and we need to create a dish from their blog, This month I was paired with the above said blog and I made two recipes from her blog here is one of them, when I searching for something I could make, My eyes fell over this one, I knew I would try this out, as my kids love pasta and of course which Indian wouldn't love coriander, the smell is so gorgeous, that is one herb I wouldn't live without it.
When I started writing this I suddenly thought what does pesto mean ?, is it a Italian name for Basil !, check.., well Google tells you that pesto means paste. Oops I was quite happy so that is appropriate then Coriander pesto means Coriander paste.. good good I thought.
So here goes the recipe I thought hats of to corrie what a way to create and of course it tasted great..
SPIRALI PASTA WITH CORIANDER PESTO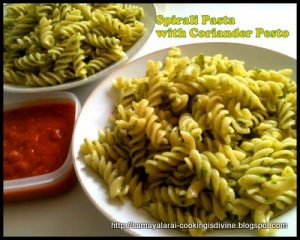 INGREDIENTS:
350 gms of Spirali Pasta
1 Cup of fresh Coriander leaves
2 to 3 tbsp of Pine nuts
2 to 3 tbsp of Olive oil
1 Garlic clove
1 Green Chillies (use pepper powder instead)
Parmesan Cheese as desired
METHOD:
Wash and grind coriander leaves with pine nuts, chillies, 2 tbsp of olive oil and Garlic clove into a smooth paste.
Cook the pasta al dante until well cooked !, ( I usually add a drop of oil into the water I cook the pasta, which makes it not sticky when done.
Drain the water from the pasta, In a pan heat another couple of spoons of olive oil, add the ground paste to it, saute for a minute then add the cooked pasta to it, mix well, with a bit of salt to it. Garnish with more toasted pine nuts and Parmigiana cheese.
I also made little Tomato Sauce to serve with it.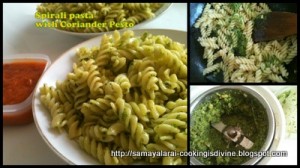 FOR TOMATO SAUCE
3 Medium sized Tomatoes (1 cup Pureed)
1 tbsp of Tomato Ketchup
1 tbsp of Chiili & Garlic Sauce
1 tbsp Tomato Puree
salt as desired
1 tsp of Sugar
METHOD:
I just pureed Tomatoes, In a pan heat a tsp of oil, dump in all the ingredients boil it for a few minutes, until it reaches thickening consistency and lo! your sauce is made. (My kids liked it!)
This is to Taste and Create thanks to searching for spice, for this delightful recipe which my kids loved. I love to send this to PJ's event guest hosted by hosted by Krithi's kitchen - Herbs and flowers in my platter.