Every week when it is Tuesday I keep thinking I will definitely start posting my Tried and tasted recipes/Bookmarked recipes, but it seems to never happen at all, I saw this Tuesday BM - Event in Priya's blog and Aipi's combined event, I thought that's fantastic, I shall start posting one by one everyweek, so I can delete my Book Marks, no wonder I have so many of them and so many I have tried and seem to never post them. Today I decided I am going to do it!, Good girl aint't I am :), Here I am with my Book Marked Recipe.
This Girl is not only sweet and I have a special feeling with both of the SIL's, ( hey not related to me), to each other, One showcases wonderful recipes with beautiful Photographs and the other showcases her blog with beautiful Authentic recipes, I love her blog, I know she would think I don't visit her often but I do :).
She has a beautiful, useful, medicinal right - up for every post she does, Of course you all guessed yes, that is Chitra of Ratouille - Any one can cook, I made some of her signature dishes from her authentic kitchen we all loved and enjoyed it, and I would love to tell her so...
You must be wondering what did I try her Sambhar Powder which is on the main page of her blog! Get the Sambhar powder Recipe from here.
SPINACH SAMBHAR WITH SWEET CABBAGE STIR-FRY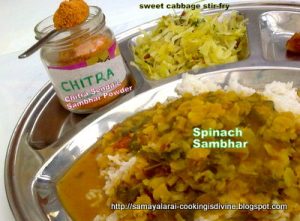 INGREDIENTS:
2 Bunches of Spinach
3/4th Cup of Tuvar Dal
1 Tomato
5-10 Small Onions/Shallots
Tamarind Gooseberry size
Salt as required
A Pinch of Asafoetida
Few curry leaves
Grind together:
3 to 4 tbsp of Sambhar Powder
1 tbsp of Rasam powder
3 tbsp of Coconut
cooked Tomato
Seasoning:
2 tsp of Oil
1 tsp of Mustard seeds
METHOD:
Wash and cook finely chopped Spinach, Tomato (chopped into two halves) and Toor Dal together with a pinch of Turmeric powder in a pressure cooker up to 3 whistles.
Meanwhile chop the small onions finely and keep aside until needed.
Meanwhile when it is cooking, soak Tamarind in 1/2 cup of water and microwave for 1 minute, do not try to squeeze tamarind extract immediately you can add another 1/4 cup of water and squeeze the tamarind juice, if you can handle the hot water or leave it a few minutes, until you are comfortable with the water and squeeze the juice out of it.
Take a broad vessel heat a cup of water, Once it starts boiling, add the tamarind extract allow it boil for few more minutes (10-12 minutes) until the raw smell disappears in a medium flame, be careful otherwise it darkens the vessel ! around the sides. keep an eye on it.
By that time if the cooker has cooled down, remove the tomato and keep it aside but for the spinach-Toordal mixture , with a masher give a light mash, so both of them combine together very well then add this to the cooking vessel, Immerse a ladle in it, so when it is boiling it won't spill out, still keep it a very medium flame and keep stirring now and then so it wont' get stuck to the bottom, because it might start to thicken.
Now Grind everything under the Grind together heading, with the cooked Tomato into a smooth paste with the help of 1/2 cup of water dissolve it well and add it to the cooking greens, mix well and let it boil, add required quantity of salt and asafoetida.
Now take a wok heat oil, add mustard seeds once they crackle up add the chopped onions and curry leaves and fry for few minutes until they are transparent add this to the cooking greens and dal mix well, and Now your sambhar is ready to be served with papad or dry curry of your choice.
I served it with Sweet cabbage dry curry.... recipe follows....
SWEET - CABBAGE STIR FRY:
INGREDIENTS:
1 Whole sweet cabbage
curry leaves a few
salt as required
few fresh Coriander leaves
A pinch of Asafoetida
1/4 cup Grated fresh Coconut
For Tempering:
1 tbsp Channa dal
1 tbsp Urad dal
1 tsp Mustard seeds
4 to 5 Dry Red chillies
1 tbsp of oil
METHOD:
Take a bowl with water, chop the cabbage finely and put it into the water, give one wash and drain all the water and keep aside.
In a wok heat oil, add mustard seeds once they crackle add everything under Tempering and saute for a minute the colour of the dals change, or you smell a nice aroma, Now add the chopped cabbage and curry leaves and mix well.
In a low flame cook the cabbage without any water, if you find it too dry sprinkle just a fistful of water.
I usually keep them immersed in water, until I need them. Once the seasoning is done, I dip my palm take a fistful of the cabbage try to drain by giving it a little shake and then add it directly to the wok or you can do as I said earlier.
Keep it covered and just few minutes once stir them all once and leave it again within 15- 20 minutes it gets cooked and just keep an eye that they don't get stuck to the wok, as we all know that cabbage gives water on its own, it is better not to add too much water.
Add salt mix well leave it for few more minutes
Then add freshly grated coconut mix well and serve.
This even goes well with Rasam, Chapatis etc..,,
I am also sending this to '' Only Greens event'' started by Pari of Food delicious and guest hosted by Sara's Corner.