I had planned to post this yesterday itself, but when I came home I was so tired, and I was not able to make any pulkas, I had an eye on
priya of easy and tasty
who had announced Sesame Seeds for her own event which she has started as
Cooking with seeds
check out her blog all the ongoing events from this month everymonth, cooking with some seed.
Last time when priya hoted coriander seeds, I made my own
coriander powder
, which some of friends said was very good, thanks to them who tried out the recipe powder, as i have always said I love preparing new masala powders and tasting & trying new powders in my cooking which I think gives a change to the dish, here I came with an other one which was quite nice, hope you all enjoy this recipe too.., I am sending this entry to priya 's cooking with seeds.
SPICY AUBERGINE-TINDORA-RUNNER BEANS MASALA WITH SESAME SEEDS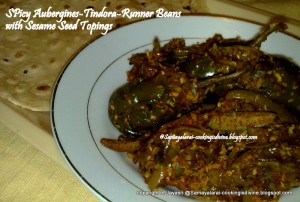 INGREDIENTS:
6 Small Aubergines/brinjals

250gms Tindora

250gms Runner-beans

2 Medium sized onions

2 Medium sized Tomatoes

3 Cloves of Garlic

1 tsp of fresh ginger

1/4 cup Fresh coconut

2 tbsps of Sesame Seeds

1 tsp mustard seeds

6 to 7 sprigs of Coriander leaves fresh

1 or 2 sprig of curry leaves

Salt to taste

4 tbsps oil
MASALA FOR THE CURRY
1 tbsp of Chenna dal

1 tbsp of Urad dal

1tbsp Coriander seeds

2 tbsp Sesame seeds

1 tsp poppy seeds

3 to 4 Red chillies (spiciness as per taste)

1/2 tsp Fennel seeds

1/4 tsp Fenugreek seeds/ Methi seeds
METHOD:
First of all lets make the powder, Take a wok, heat a tsp of oil, add fenugreek seeds, allow it to change colour, then add the dals, coriander seeds, fry until they change colour, then add the poppy seeds, sesame seeds and Fennel seeds fry for 2 to 3 more minutes, so they change to a golden colour, take them out and leave them to cool down.

Once they are cool grind them to a coarse powder and keep aside.

Meanwhile wash the small Brinjals and prick the brinjals all around and leave it in water until needed

Wash Tindora and Runner Beans and slice them into long lengths (3''), cut the Tindoras into 4 pieces lengthwise, and Runner Beans lengthwise. Cook them in a pressure cooker just one whistle, they usually do not become too mushy. They will be perfectly cooked, Drain water completely. If you do not want to cook it this way you can directly cook the veggies directly in the wok with sprinkling little water time to time until they are well done.

Take a Wok, pour 1 tbsp oil, season it with mustard seeds, then add sliced onions and chopped garlic cloves and fry until they turn transparent, then add chopped Tomates and cooked Tindoras and Runner Beans, add curry leaves, then add the brinjals to it, mix well and cover it with a lid and alllow it cook , It will cook very quickly.

Then add salt and the ground masala powder mix well, and leave it for 15 to 20 minutes in a low flame mixing now and then allowing the vegetables to absorb the masala powder.

Meanwhile when the curry is cooking, Toast 2 tbsps of Sesame seeds till slightly turns golden in colour and keep it aside

Once the whole curry dries out, Garnish with toasted sesame seeds and fresh grated coconut, mix well and serve it with hot lovely pulkas or chapatis.
My verdict
: Always use chillies to your own taste and use the masala powders accordingly to your choice.
Here take an other at my lovely dry curry...