Hi, everybody, weather is becoming slowly very cold, have to wait for 6 months again to see some sunshine, anyway even this time we did not have a good summer, I have to bring all my plants into my conservatory, so that they don't die too much of rain or cold!, My curry leaves has grown around 5 ft i think, Hibiscus has grown upto 7 ft I think, and my favourite Doddapatre has widely spread, all of these which I brought from India, I don't want them to die, and I have some more flowering plants like the crysanthymums which are giving lot of flowers !!, I don't know how I am going to manage all those pots and protect them.
well, coming back to my recipe, I made this quite long back, for some event about omelettes, but as usual i am always late posting them on time, and one more thing which always happens to J is her computer crashes right on time!!, howzit ? God ! knows how it happens, from past 2 days something happened and just today my hubby has installed every thing back again. My eldest she likes eating eggs, and likes eating omelettes well, I don't cherish them, I am not used to it, and funny thing my son doesn't eating it either, I was going through one of my recipe books where in I found this recipe, thought of trying this out, but I made little changes to the authentic spanish tortilla !! ( I think it is authentic I do not know exactly) thank God! it turned out well, and she liked it very much, even my friend who visited us also enjoyed it. here goes the recipe....
SPANISH TORTILLA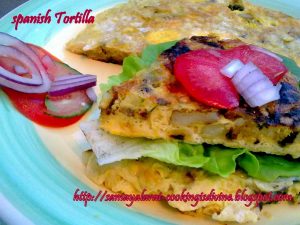 INGREDIENTS:
125 ml/ 4 fl oz of olive oil

( I just used 2-2tbsp of olive oil)

600 g/1 lb/5oz potatoes, peeled and thinly sliced,

(I used 2 to three medium sized potatoes and 1 medium sized onion, 1 tomato, 1 capsicum)

1 large onion thinly sliced

6 large eggs

(3 large eggs)

salt and pepper
fresh flat-leafy parsley sprigs, to garnish

(I used fresh thyme & basil leaves)
METHOD
Heat a frying pan , preferably non-stick, over a high heat. Add the oil and heat. Reduce the heat to medium-low, then add onions once they change colour add the tomatoes, once they are cooked add capsicum and potatoes and cook, stirring occasionally, for 15 to 20 minutes until they are tender.
Beat the eggs in a large bowl and season generously with salt and pepper.
Add a little bit of salt so the vegetables absorb them while cooking, then take them out and leave any excess oil in the pan and just remove any crusty bits stuck to the base of the frying pan.
Rehat the frying pan over a medium-hight heat with anothr 2 tbsp of olive oil Add the egg mixture and smooth the surface, pressing the vegetable mixture into an even layer.
Then garnish it with fresh herb of your choice and press it on the top of the veggie mixture.
Cook shaking the pan occasionally, for 5 minutes, or until the bottom is set. Use a spatual to loosen the side of the tortilla.
Put a large plate over the top and carefully intert the frying pan and plate together so that the tortilla drops onto the plate.
Add a little bit of oil to the frying pan and swirl around. carefully slide the tortilla back into the pan, cooked-side up. Run the spatula around the tortilla, to tuck in the edge.
Cook for a further few minutes, or until the eggs are set and the bottom is golden brown.
Remove from heat and slide the tortilla onto a plate. Leave to stand for at least 5 minutes before cutting, serve it garnished with parsley sprigs.
I have shown in red colour of how I did and changed the way they garnished and just put the chopped Basil and thyme leaves and pressed it on top of the veggie mixture.