This recipe I got from my sister's book, She also doesn't remember where she got it from!, must be from my friends i think she said!, anyways I thought it was quite an interesting recipe and I also got a chance of making this and everybody at home enjoyed it, so, here it comes in my post…
SNAKE GOURD SEED DOSA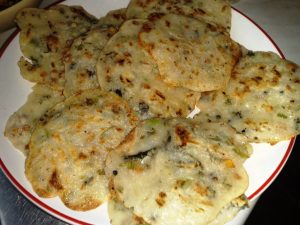 1 cup scraped out snake gourd tender seeds and pulp 
1 cup Raw Rice
2 flakes of tamarind
salt as required
2 to 3 red chillies
1 sprig curry leaves
2 sprig of coriander 
a pinch of asafoetida
Scrape out of the tender seeds and tendrils from the pith of the snake gourd if it is a cup then take the same quantity of rice.
Soak rice for half an hour and grind them all together then chop the curry leaves and coriander leaves mix it all together.
pour small dosas as shown in picture on the hot tawa and serve it with chutney or podi.