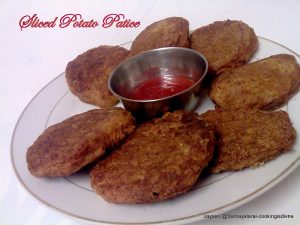 I know my photo is so bland, but I promise you the dish is so delicious.., I have got so many votes for this like g+!. how many would say yes with me...., Yay!!, I know you all would, especially kids don't they.., I won't say kids only..., as my hubby loves potatoes so much.., If we go to market he specially keeps asking can we buy some potatoes Pleaseeee..., I sometimes literally fight with him baring him from buying them.., as my kids insist that I have to make potato curry dry or gravy at least twice in a week, I try to use more veggies than potatoes all the time.
I will go straight to the recipe.., this is for BM#14 - kid's delight - 30 minutes.., My kids are not very small kids they are teenagers..., so please adjust the spiciness in all the dishes I have posted in this series.. if you are making it for your little ones..
SLICED POTATO PATICE
INGREDIENTS:
I have given approximate measurements as I just made it in the nick of time..., just make this to your taste.
Potatoes - 2 ( I used large ones)
Potato - 1
7 to 8 Walnuts
3 to 4 Bread slices (day old)
2 to 3 tbsp of Corn flour
water to make paste ( may be around 1/4 cup)
1/2 tbsp of Chilli powder
1 tsp Coriander powder
1 tsp Cumin powder
1/2 tsp Garam masala powder
A pinch of Hing/Asafoetida powder
salt as required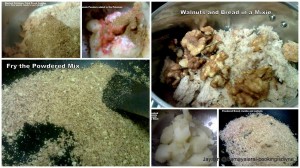 METHOD:
First of all grind walnuts and bread in your mixie to fine crumbs, then roast the powder mix for a few minutes in a wok,
Meanwhile cook 1 potato, peel the skin and mash it nicely to this add the bread crumb mix, all the spice powders, corn flour and required amount of salt.
Mix all of these into a paste like base using water, ( Just like potato bonda base consistency or like a very thick pancake batter or I could say like a cake batter!)
Inbtw take Raw potatoes (2) peel the skin and slices the potatoes in a potato slicer, put these slices in water so it doesn't change colour and cook them for few minutes so they are partially cooked (even if they are completely cook don't panic, just make sure it doesn't loose its shape!) , drain the water from the slices and keep aside. Separate the pieces and drain them on a kitchen towel quickly otherwise they tend to stick together, this helps in taking away the water content from them and keeps them more drier.
Heat a tawa/girdle, pour some oil (say around 1 or 2 tsp) , Dip each potato slice into this batter and put them on the tawa just like the photo down here....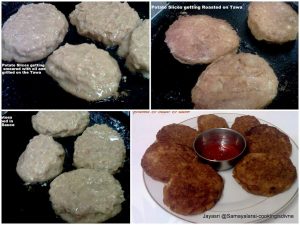 put around 3 to 4 pieces on the tawa just as shown above, add one or two tsp of oil on each side and roast them nicely until they change colour.
Variation: If you want you can fry them in oil or you can bake them too...
What I have done - I wouldn't say a very healthy version, as I have used oil in roasting them, but totally in limited quantity.
But kids enjoyed with Tomato ketchup, there was a bit of crispiness and a burger smell because of the walnuts...
Mum was happy that she made them eat some walnuts!..., kids were happy that they were potatoes so both parties were happy ever after....
Want to try them and tell me..., or tell me what else can be added or deleted to make it more nice and nutritious... any ideas... tell me....
Check out the Blogging Marathon page for the other Blogging Marathoners doing BM#14