Hi friends, After a long time I decided to post something to start with! this is long awaiting post from my blog, I know lot of you would have posted this recipe, I made this on January 11th as it marks the 27th Stanza of
Thirupaavai
, and is called Kudaarai vellum.
I belong to a community called Iyengars (Vaishnavites), as we all know that we follow calendars according to Lunar or Solar, Tamilians follow the Solar calendar and so they call their month in different names and follow a Tamil Panchangam for auspicious events like Marriages, Upanayanam etc., So accordingly this month is Maargazhi Maasam (December 15th to January 14th), This month is very Important to us as People get up very early in the Morning and Pray to God for Moksha (Salvation). So, why is this in this month....
It's a little story which I will not be able to write it down here as it will take a lot of space!, Godai or Andal as she is called is one of the 12 Alvars, She Devoted her whole life in trying to reach God! as a small girl and in the end she marries him that's how she at last reaches his abode If you click on to the link on her name you can read the story of her, She Prays to Lord Vishnu in the month of Maargazhi, as it is the coldest month and her penance is nothing concerned to religious rites but she says as the month is so cold getting up so early in the morning and following these simple things in her life she tries to please the Lord It is kind of Tapas (Penance) in her own way and yearns for the everlasting Service to the Lord , she has a written a Poem of 30 Stanzas which is called Thirupaavai, also called Paasurams in Tamil in praise of Lord vishnu and it is a part of the Divya Prabandham, a work of the Alvars.
Each song is sung each day during this month, and unmarried girls try to follow the little things she describes as kind of penance to the Lord to get Good Husbands!!, Vishnavas sing these songs to bring Peace, Prosperity and Divine Grace towards reaching Moksha (Salvation).
In the 27th stanza, she comes out of her Penance and Dresses up nicely and makes this sweet Porridge offering to the Lord, she even describes how this sweet should be...
She says '' Today is the day she will come out of her Vratham and adornes herself with beautiful jewels and clothes and will make Ksheeranam with milk and Jaggery and lots of ghee, wherein the ghee will flow down to her elbow when offering it to the Lord'', So that is how this Shakkarai Pongal should be made with lots of Ghee!!.
Well, as the days went by and People became health consicous, nobody wants to make Pongal that way!, but still we do get Sweet Pongal as Prasadam in temples the way she describes :)).
So here is my version of Sakkarai Pongal....
SAKKARAI PONGAL (SWEET PONGAL)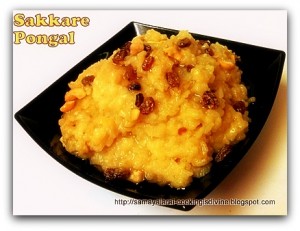 INGREDIENTS:
1 to 1 and 1/2 of Jaggery (use Paaku Jaggery / Unde Bella)
1 Cup of Raw Rice
1/2 Cup of Green Gram /Hesaru Bele / Paitham Paruppu / Moong dal
1 tsp of Cardamom powder
A Pinch of Pacchai Karpooram (Edible Camphor)
1 and 1/2 Cup Milk
1 and 1/2 Cups of Water + 1/4 cup Water
1/4 tsp of Nutmeg
2 tbsp of Cashewnuts
2 tbsp of Kishmish/Raisins/Dried Grapes
1/2 Cup of Pure Ghee / Clarified Butter (increase it more if you enjoy eating ghee)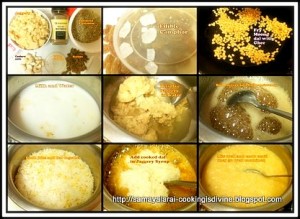 METHOD:
First of all in a wok add a tsp of Ghee and fry Green Gram into Golden colour, which gives a nice aroma around the Kitchen.
Then In a thick bottomed vessel take the washed rice and Moong dal with 1 and 1/2 cup of Milk and 1 cup of Water and either cook it directly on the stove if you are using a thick bottomed vessel (Vangala Paanai) or Mud Pot, I made this in a pressure cooker, Cook dal and Rice with milk and water close a lid to the vessel and pressure cook up to 3 whistles, ( If cooking directly I close a lid to the vessel as we know that when milk boils it froths up and spills out so it is better to close it with a lid and put a ladle in it, which helps the liquid not coming out ).
Meanwhile take Jaggery and 1/4 cup of water (use Jaggery according to your tastebuds) and allow it to completely dissolve it in the water, then leave it for 2 minutes allowing the impurities to settle down, filter the Jaggery as it usually has impurities, take the filtered Jaggery in a vessel and start to boil it, until it reaches a ball consistency you can test this by dropping a tiny bit into a cup of water, where you can see that it doesn't spread out into the water but you can see it well and where you can bring it into a ball (next time I will try to take a photo tutorial of this).
It is important that you do this even after the cooker cools because when it reaches ball consistency it becomes hard and you have a add a little bit of water to keep in this consistency until your cooker cools, It's just the timing no need to panic, Once the whistle is gone, take the cooker out from the stove and keep it on a table top on a stand (as it will be very hot!), otherwise the heat from the stove keeps the cooker still warm for a bit longer.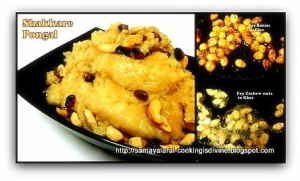 Either way you can do it, like I said I cooked the dal and Rice in a vessel, use a thick bottomed vessel for boiling the Jaggery , Now to this add the cooked Rice and mix well, start boiling this whole thing in a medium flame stirring now and then to keep an eye on the cooking mixture so that it doesn't stick to the bottom of the vessel, as it will be a very thick once they all start coming together thick and lovely start adding Ghee it kind of swallows all the ghee, You can add a Cup of Ghee if you want and your Chakkare pongal will be very delicious as we are very health conscious we do not want so much ghee Leave around 2 tbsp of Ghee and add remaining Ghee from the 1/2 cup. I have mentioned add the other Ingredients Cardamom powder, edible camphor, nutmeg powder mix and switch of the stove and close a lid.
Now Garnish Chakkre Pongal, take 2 tbsp of ghee in a small pan once it is warm enough add chopped Raisins and broken cashewnuts fry them, Raisins becomes swollen and cashews turn golden in colour, keep the stove in a low when doing this and don't burn them add this to the Pongal mix well.
Serve hot and Enjoy....
Notes:
It is better to use Round Jaggery (Unde Bella), Check
Valli's Blog for Jaggery Varities
from this Recipe, she describes each one of them with a lovely click too!!
updated
: Adding more ghee will not make the Chakkare pongal hard and keep it more moist, Anyway reheat in the MW for a minute before eating.