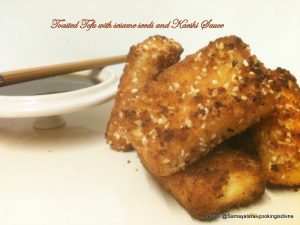 Wondering what this is, This is totally my daughter's make up Tofu Recipe not the sauce, I have to give a little intro about this addiction..., why am I using this word addiction.., I have a daughter her new addiction from few months is Japan.., May be soon enough I will post the whole lot of Japanese dishes I have tried out..., Just because of her..., Her addiction has crossed its limits, now I have to scream at her to stop seeing Japanese food, videos, alphabets and whatnot's and start concentrating on her coming exams.
This all started few months back, when she started learning the alphabets, I could all those different diagrams that is what I call them, stuck to my cupboards, kitchen utensils, Lounge, bedroom etc.., then she started exploring the food ( because she knew that is how she can hook me!), and then now she has landed up in seeing Japanese TV programmes..., I have promised her that I will find out if I could locate some place here who can help her with speaking the language and she has to promise me that she would sit and study for her A level exams..., but she is still contemplating about it... , I will not talk about this much further as it might take the whole post. So let me get back to the recipe...
I usually don't bring Tofu often, so once in while when I bring I will try something nice for my daughter, My twins especially my son doesn't like Tofu, Paneer etc.., according to him.., South Indian food is the most comfortable zone for him!, so why am I talking about him.., The only person who hates to eat Tofu, loved Aishu's Fried Tofu recipe and praised it.., So I had to take the photographs when she was making them.., I am linking this to Kid's delight - 30 minutes snack.. for Blogging Marathon #14.
FRIED TOFU WITH SESAME SEED TOPPING AND KAESHI SAUCE
INGREDIENTS FOR TOASTED TOFU
250gms Tofu Block
3 to 4 tbsp of white Sesame seeds
oil as required*
Bread Crumbs*
corn flour*
water*
METHOD:
Remove the Tofu from the wrap press and remove the water from it, cut them into rectangles.
In a bowl mix both bread crumbs and sesame seeds in small portions, so you won't be wasting both of them, use them as needed.
In an other bowl mix corn flour with water and make it into a pancake consistency and keep it ready.
Dip these rectangles in the corn flour batter first then into the bread crumb mixture.
Heat a small pan and toast these Tofu pieces on both the sides carefully until golden brown in colour.
* I have indicated this star to tell you that I have not mentioned the exact measurements and these things are totally used approximately. A small tip I could give you is when making the corn flour batter do not add too much water start with little water and when mixing water you will start to know how it reacts and how corn starch gets settled down in the bottom.., If you are new to this concept, it is better that you add around 1 or 2 tsp of plain flour which helps in making the consistency of the batter.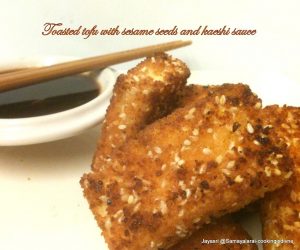 KAESHI SAUCE
adapted from here
INGREDIENTS:
170 ml dark soy sauce
30 ml Mirin
25 gms sugar
METHOD:
About this recipe and if you are too keen on learning Japanese dishes and love it.., it is better to go the website, as she discusses about the use of different kind of Mirin., The one I have used is an alcohol free.
Put the Mirin in a pan bring to boil, lower heat and simmer a bit
Add sugar and still till everything is melted
Now add soy sauce let it warm up slowly, do not allow it to boil, when it starts bubbling switch of the stove and keep it aside.
If any scum has formed on top of it, skim off carefully.
She says Kaeshi can used straight away but tastes best when left for about a day,
This can kept for several month under refrigeration in an air tight container.
You can even add more sugar to taste if you like it sweet...
I think my daughter added more sugar as to her liking...
So you can increase decrease the contents as you like it.
Check out the Blogging Marathon page for the other Blogging Marathoners doing BM#14