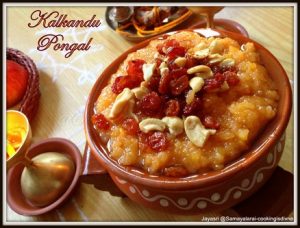 Hi Everybody, Hope you all had a wonderful Sankranthi / Bihu / Lohri / Pongal /Bhoghi whatever way you want to call it.., we all Hindu celebrate this festival with such festivity, the auspicious time and the rituals are so important to us, The important thing you might have noted is the day it falls on January 14th every year, which never changes once or twice exceptionally, where in it might fall on January 13th or 15th very rarely.
This festival is celebrated in different regions in different names and traditions, and different sweets made on this occasion.  As this is a harvest festival we use all kind of vegetables as well...
Courtesy Wikipedia...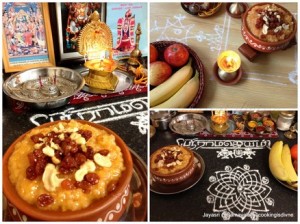 Makar Sankranti is the day when the glorious Sun-God begins its ascendancy and entry into the Northern Hemisphere and thus it signifies an event wherein the Sun-God seems to remind their children that 'Tamaso Ma Jyotir Gamaya'- may you go higher & higher, to more & more Light and never to Darkness.
To Hindus, the Sun stands for knowledge, spiritual light and wisdom. Makar Sankranti signifies that we should turn away from the darkness of delusion in which we live, and begin to enjoy a new life with bright light within us to shine brighter and brighter. We should gradually begin to grow in purity, wisdom, and knowledge, even as the Sun does from the Day of Makar Sankranti.
The festival of Makar Sankranti is highly regarded by the Hindus from North to down South. The day is known by various names and a variety of traditions are witnessed as one explores the festival in different states.
Owing to the vast geography and diversity of culture in India, this festival is celebrated for innumerable reasons and in innumerable ways depending on the climate, agricultural environment, cultural background and location. On this day children fly kites.

I have already posted a recipe on the Pongal made with Jaggery earlier, which is traditionally made during this Pongal festival, Here is an other one which I make sometime...
I have used Red Sugar Candy / Segappu Kalkandu / Kempu Kallu Sakkare which is said to be a good one compared to the white one, In  Ayurveda and Home remedies, you would find every body always asking  us to use in  Kashayams and  powders this as sweetener or Honey as sweetener  this also helps in cough, cold etc.., I do not have much knowledge about this.., If anybody know any tips on this do share it here in the comment so everybody will have a update on it...
Here is how I made it...
SWEET PONGAL WITH KALKANDU / KALLU SAKKARE / SUGAR CANDY
Cooking time: 40 minutes
Serves 2 to 3

INGREDIENTS:
1/3 cup Rice
3 tbsp Moong Dal / Pacchai or Paitham Paruppu / Hesaru Bele / Senagu pappu
180 grms Kalkandu / sugar candy /Kallu Sakkre*
1/4 cup Ghee
6 to 7 Broken Cashews
10 to 12 Raisins
1/4 tsp powdered Yelakka / Cardamom / Elakki
A Pinch of Edible Camphor / Pacchai Karpoora 
A Pinch of Nutmeg powder
1 Cup Milk
1 Cup Water + 1/4 cup



METHOD:
In a frying pan add a 1/4 tsp of Ghee and fry Moong dal for few minutes in a low flame until it changes to golden colour and a nice aroma comes out of it.  Remove it on to a plate and keep it aside until needed.
In a Pressure cooker** take 1 cup of Milk with 1 cup of water add the roasted Moong dal and washed Rice together and cook for three whistles in medium flame.*** until well cooked.



Do this after your cooker is in the process of cooling... In a thick bottomed vessel take 1/4 cup of water and Sugar candy / Kalkandu / Kallu sakkre,  heat them together for few minutes until all the sugar candy dissolves in it, keep it in a low flame when doing this then filter the liquid and put it back on the stove. and boil it for 1 string consistency****
Once it has reached 1 string consistency immediately add the cooked rice to it, keep the stove in the low flame, to this add edible Camphor, powdered Cardamom  and Nutmeg powder and a 2 tbsp of ghee and close it with a lid.
Now in a small frying pan heat the remaining ghee, add the raisins first when they start bubbling up add the broken cashews when you see a light change in colour, switch of the stove and keep it aside this helps in not burning the cashews too much.



You can see that the Rice, Dal and Kalkandu mixture might be a bit liquidy, that is fine when it is still in a semi liquidy form remove it from the stove, garnish with raisins and cashews mix them well together and now it is ready to be served.

MY NOTES:
* I used 180 grams if you like it more sweeter you can increase it to 200 grms which would be sufficient
** I have used Pressure cooker for a quick version
Points to remember as it has got milk in it, you should be very careful I just cook it exactly for 13 minutes if it doesn't give out a whistle I just switch off the stove when it is 13 minutes.
***Other wise cook both dal and rice without covering the pressure cooker lid for few minutes just keeping a ladle and covering it half with a plate in a low flame for few minutes when the rice is 3/4th cooked add an extra bit of water (1/4) cup and then close the lid and cook for few more minutes around 6 to 7 minutes if it gives out whistle then that is fine other wise just switch off the stove and check and cook until it is well done. Other wise without any cooker you can just cook with a ladle immersed and a plate covered on top until it is well done. If you are directly cooking this way do not forget to use a thick bottomed vessel.
**** Do not over boil, kalkandu looses its sweetness and it caramelizes to dark deep red colour but it will be tasteless and will not have any sweetness either.  when it is over boiled so keep an eye on it once it reaches one string consistency immediately switch off the stove scrape down the vessel around and pour the liquid onto the rice and mix well.



VERDICT:
Absolutely divine, had a demand for me to make it again so made it again the next day, Everybody at home and friends just loved it, It was so delicious and with a beautiful aroma and colour, kids who doesn't like sweets at all demanded me to prepare again as I had made very little 
This also goes to fifty-two-weeks of 2013 project by Aparna and Sra for the second week as Garnet as theme.., enjoyed immensely...
Here is my Garnety click for the second week