This is a Rasam which is very good for health, Mum made this when we were sick, with cold & cough, or definitely once a week to cleanse our stomachs!!, after I got married even mom-in-law made this once a week or somebody not feeling well, The only difference with mom's & mom-in-law's seeraga-molagu rasam was Mom-in law used Thuvar dal & Tomato in it!, Here I have made it the way my Mom made...... I will also tell u how my Mom-in-law made.
SEERAGA-MOLAGU (JEERA-CUMIN) RASAM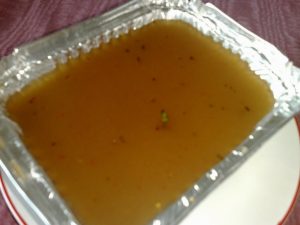 Ingredients:
Tamarind - 3/4 th Lime size
A pinch of Asafoetida
salt to taste
A sprig of curry leaves
To Grind:
1/2 tsp Pepper
1/2 tsp cumin seeds
1 tbsp Thuvar dal
1/2 tbsp coriander seeds
2 - 1 Red chillies (Guntur-Badgi)
Seasonings:
1tsp Ghee or oil
1/2 tsp mustard seeds
METHOD:
Fry the above in To Grind ingredients except cumin seeds in a 1/2 tsp of oil and grind them with cumin seeds into a smooth paste or fine powder.
If you do not want to use oil u can roast them too.
Soak the tamarind & with that u make about 1/2 litre of juice, and put it on the stove & allow it boil so that the raw smell disappears.
Now add the powder or if u have made it into a paste mix it with little more water & then pour it into the Tamarind juice,
Boil for a few more minutes, when the rasam froths up, add curry leaves & asafoetida
Remove from fire, season with mustard.
METHOD II
This is my mom-in-law's method of cooking this Rasam
Pressure cook a cup of Tuvar dal washed with one or Two Tomatoes, When u increase the Tomatoes reduce the quantity of Tamarind, with a pinch of Turmeric.
Follow the same method as in Method I only thing is you have to add cooked Tuvar dal & Tomatoes.
Season it with mustard seeds, curry leaves, hing & coriander leaves.
Serve it with Rice with a spoonful of Ghee.