Another day another recipe from her kitchen to mine, I am cooking my way through her kitchen I think almost every day. Should I say almost everyday, I made something for my kids again which they immensely enjoyed, they said it was Gorgeous, thanks Aparna.
I was looking through my fridge, and I saw this tupperware box and of course I suddenly remembered what was Inside this, That was my paneer, which I had made, 3 days back, yes, I thought I should do something, started with a subji and ended making these Paneer Rolls, when I was searching through her blog for pasta recipes, This one caught my attention and I had thought I should make this someday as it is a savoury and has cheese, both of which my kids will relish.
Here comes the recipe and a little things which I need to tell you about it through Aparna's research and her own words quote and unquote!, She says about these rolls in her blog....
'' This recipe for the dough is adapted from the Yeasted Breakfast Bread Dough in my Tassajara Bread Book. I used this dough because it is less rich compared to the dough usually used for cinnamon rolls. I made some adjustments to the dough recipe and made it egg-free as well.
I guess the tweaking of the recipe is fine as the author of the book, Edward Espe Brown himself says,
''Recipes do not belong to anyone-- given to me, I give them to you. Recipes are only a guide, a skeletal framework, to be fleshed out according to your nature and desire. Your life, your love, will bring these recipes into full creation (p.vi).''
She says these rolls come out soft and savoury filling makes it more tastier and can be served as a snack or with a soup''
SAVOURY SPRING ONION AND PANEER ROLLS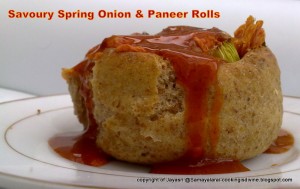 INGREDIENTS:
For the dough: Part I
1 Cup Luke warm Water
2 tbsp Honey
1 3/4th Active dry yeast
1/3 Cup dry milk (milk powder)
1 tsp Ground Flax seed powder in 1 tbsp water (or an egg)
1 1/2 cups of Whole wheat Flour ( I used 1 cup of Whole wheat Flour and 1/2 cup Rye Flour)
Part II:
3 tbsp Oil ( I used butter)
1 1/4 tsp salt
1 tsp Roasted and Crushed Cumin seeds
1 tsp roasted and crushed cumin seeds powder
1 Cup All Purpose Flour (plain flour)
About 1/2 cup or so flour for kneading
FOR THE FILLING: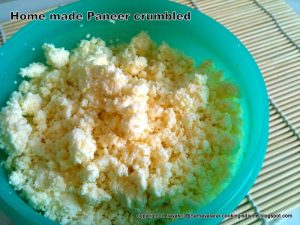 1 and 1/2 cups of chopped spring onions greens and whites
1/2 cup of sweet corn (I used fresh)
1tsp oil
1 and 1/2 cup crumbled paneer
1 to 1 and 1/2 tsp of Red chilli flakes (or according to taste)
1 tsp of Italian herbs
salt to taste
Cheddar cheese for topping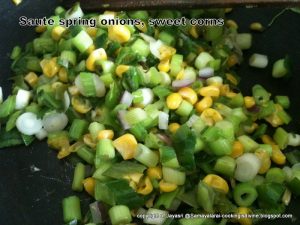 Sweet corn Spring Onion and paneer filling ready to go into the bread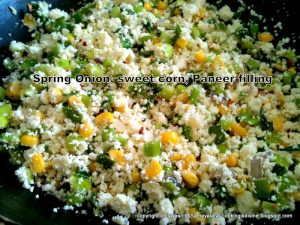 METHOD:
In a bowl dissolve the yeast in the lukewarm water and honey. leave it for a few minutes, you can see the kind of foam forming up. Beat flax seed and water then add this to the bowl, add milk powder (or egg) mix well. Add the whole wheat flour and mix into a batter and beat well (Brown says 100 strokes so Aparna says in her blog)
Cover with a cling film or whatever method you use to let your dough rise. Allow it to rise to double in size.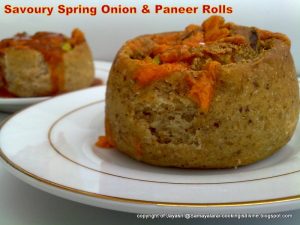 Now when it is rising make your filling use all of the spring onions cut them into thin slices, crumble your paneer and keep your sweet corn ready. Take a wok, add a tsp of oil add the onions and saute it for a minute, do not saute it too much let it remain green and crunchy then add the sweet corn and saute for an other 2 minutes then add chilli flakes, Italian herbs and salt to taste, put off the stove allow it to cool and then add the crumbled paneer, now your filling is ready.
Check out the dough if it rised take it out, add crushed cumin and black pepper and butter or oil and fold in and add the 1 cup flour and knead till the dough comes away from the sides of the bowl.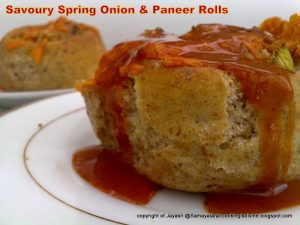 Place the dough on a floured surface and knead it for 5 to 10 minutes with floured hands, as the dough will be stickPlace the dough on a floured surface, into a smooth dough, cover and leave the dough to rise again to double in size.
Once it is double in size, punch it lightly, then flour the surface and roll into a rectangle as Aparna says I made two halves and rolled them into rectangles into 1/4'' thick do not make it too thin, then keep the longer side facing towards you, then spread the filling leaving the space free in edges.
Dipping your finger in water wet the dough in the edges, Roll the dough rectangle tightly and seal the edges and cut them into 6 pieces place the cut side up in a greased tin giving space between them so they might expand and allow it to rise for another 30 minutes.
Preheat the oven 1/2 an hour before brush the rolls with milk and bake the rolls at 190c for 20 minutes, after 1/2 way through fill the top with grated cheese and bake them again for further 10 to 15 minutes so the rolls are well baked and cheese is melted and the rolls are browned.
serve warm.
MY VERDICT : I did everything as she had told, valli had told not to tweak recipes, I tried to stick on to it, but when I saw my left over rye flour I couldn't resist, then added some sweet corns in the filling as my kids like it, The flour was not sticky as Aparna said in its first level itself it was like a dough, I do not know it might be because of rye flour, I did not add too much flour later on, I just dipped my hand in the flour while I was kneading the dough turned out very well, and the result was perfect.
My kids just loved it, they said it was amazing..., thanks for the recipe Aparna....
Of course needless to say I am sending this of to valli's Tried and tested event started by zlamushka, which is being taken care of by Lakshmi of Kitchen Chronicles.
I would also like to send this to Bake off event and it is also yeast spotted.