Raks says this is her method of making
Aruchuvitta Sambhar
, I make Aruchuvitta sambhar in my mom's way (no onion and no garlic) I always make my sambhar freshly and I don't stock them, when I saw this I thought of giving this a try.
It was lovely and yes of course, meal of the day done with satisfaction.
Hear goes the recipe..........
SAMBHAR - ARICHUVITTA SAMBHAR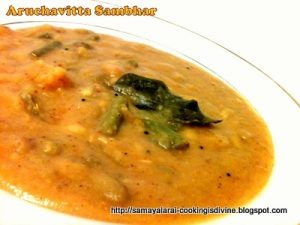 INGREDIENTS:
1 Cup Thuvar Dal
small Tamarind
10-12 Small Onions
3 Nos Green chillies
1 Tomato
curry leaves
small Marble sized Tamarind
1 and 1/2 cup of Chopped Vegetables (I used carrot, beans, potatoes)
Salt as required
ROAST AND GRIND
1 tbsp Channa dal
1 tsp Urad dal
1/2 tsp Fenugreek seeds
5-6 Red chillies
1 and 1/2 tsp Coriander seeds
1/2 tsp Mustard seeds
1 tsp Jeera /cumin seeds
1 tsp Oil
TO TEMPER
1 tsp Mustard seeds
3/4 th tsp Fenugreek seeds
Asafoetida/Hing
1 tsp Jeera
1 tsp of Oil
METHOD: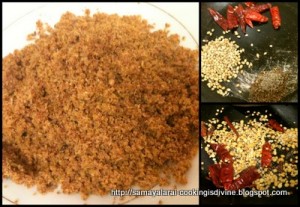 Heat a tsp of oil and fry all the Ingredients under Roast and grind and when cool make it into a smooth powder.
In a pressure cooker, cook the dal with a bit of turmeric and 1 and 1/2 cup of water until soft.
Now heat a tbsp of Oil, put in all the Ingredients under the temper heading and roast it until they all change colour, now add the chopped pearl onions fry until they turn transparent and now add chopped tomato and green chillies, curry leaves, cook them until they are soft.
Microwave tamarind in a cup of water, they would have become soft now keep it aside for few minutes until they are enough to handle to your hand, add a bit of cold water which makes it cool sooner.
Squeeze out the water, take the filtered juice add it to the cooking onions and tomatoes.
Now add the chopped vegetables until they are well cooked.
Now add the mashed and well cooked dal to it and cook all of them well together.
Now add the powdered sambhar powder to it and boil it for a few more minutes.
Now the Sambhar is ready to go, Enjoy it with warm rice and a dollop of Ghee.
This recipe goes to my Event Bloggers Marathon