This is lovely dish which I like very much, This dish I learnt from my sister who lives in pune, she does a lot of north Indian dishes, as I had already told you, she has numerous dishes which I will be trying now & then, This she learnt from a marati friend, who said during the upvaas they do this, I suppose it is that saabudana cools down your body (thampu maaduthe) that is why they might be using it during upvaas.  From then on every sankashta chaturthi, we make this and eat !, But I always tell my sis that she makes it best than us, Even my sister's son says so, nobody can make sabudana like vani chitti!, I couldn't take a best photograph, as I had already packed it in a lunch box.
It is very important to choose a good sago/sabhudana/Tapioca as the very small ones gets dissolved, the medium sized ones they look like pearls are good, But, my suggestion as my sister says try them in little quantities and then you would know which one to buy !, I bought 3 to 4 packets from pune !!, as I was scared to try something else.  
One more thing you should remember is not to soak sabhudana in large quantity of water, and not to add water anytime during the process of making this dish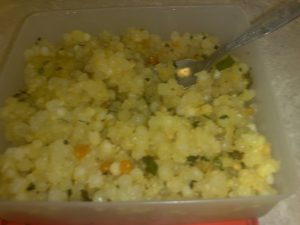 1 Cup Sabudana (little bigger ones)
1/4 cup Roasted dehusked peanuts 
1 tbsp Jeera
4 to 5 sprigs of coriander leaves
3 to 4 tbsp oil
2 medium sized potatoes
5 to 6 green chillies
1 sprig of curry leaves
salt as required
Lemon juice as required 
2 to 3 tbsp of fresh grated coconut 
I usually feel it is very important to choose a good sabhudana, then wash sabhudana 2 to 3 times mixing slowly so the very fine powder just washes away
Then soak the sago in just enough water that is just sabhudana is immersed in it.
Leave it overnight if you are making it in the morning or vice versa if you are making it in the evening or that it needs to be soaked for 7 to 8 hours
So, before making the khichadi, boil the potatoes peel the skin and cut into cubes and keep it ready
Next day drain out all the water and then add the ground roasted peanuts and required quantity of salt
Mix them all very slowly so that they don't get mashed up, Here the powdered peanut helps in keeping the sago pearls separately ( that is what my sis says ), get it ready like this and leave it
Take a wok heat oil (use more oil than usual, just you use for upma), then add cumin seeds, green chillies, curry leaves and then add the cubed potatoes and fry for few minutes just they are roasted
Keep the stove in a low flame, then add the chopped coriander leaves and the peanut ready sabhudana,  mix well and carefully so that they don't get mashed.
Add the freshly grated coconut 
Cover the wok and leave it in a low flame for 5 to 10 minutes depending on your kadai
Open the cover and You can see the pearls are transparent and that means it is ready to be served
serve with lemon juice squeezed
mmm.., absolutely ravishing, that is how I feel, I love this dish, it keeps you so full…, may be that is why they make it on a ekaadasi !