This is a post long awaiting, as I made these vadams when we had a few days of sun here, I wanted to utilise the sun to full extent and was busy making some of the Papads, but, I had a tough time as the weather kept fluctuating and I was really having a hard time to sun dry them. I was not quite happy with the results, and I must thank my daughter Aishu, Chondu and Hubby who helped me make these she only spread them on the sheets.some day when they start cooking on their own they might appreciate that I have written this in my blog!!.
I wanted to send this to the Sago seeds event, which I missed, as I was away in the weekend and couldn't post it right on time 🙁
I would like to add this as to tell you that the Tomato and the Green Vadams I made it with eye measurements, because I increased the 1 cup of sago to more which I did not measure, when I used Tomatoes and the green leaves. When you are using the tomatoes and green leaves with the below said measurements reduce the ingredients when doing for a cup.
SABBAKKI SANDIGE/JAVARASI VADAM/SAGO PAPADS
I made these vadams in three different flavours so I am posting all of them in one go!
Here is the recipe the basic recipe which you can alter by changing the flavours…
INGREDIENTS:
1 Cup of Sago
4 to 5 Cups of water
1 Cup Yogurt
fist full Green Chilies
salt as required
1/4 bunch of Coriander leaves
METHOD:
Soak sago in the night itself, when you soak it let the water be just 2 inch above the sago. In the morning grind other ingredients in a mixie, and keep it aside, In a large (I usually use my cooker) broad vessel, pour around 4 cups of water and the sago and allow it cook, you have to cook just like the sago paayasam, where the sago looks like a transparent bubble then add the ground ingredients and salt as required, and cook it well.
Then once it cooks well, keep it aside with a lid closed to it.
Spread a plastic sheet or a dhoti spread it in the sun and take a spoonful of small rounds on them, and sun dry it well, once they are quite dry store it in a dry container and fry them in oil and use it whenever you want.
I love this vadam with Curd rice!!.
I need to thank my Mum as she was the one who taught me lot of these sun dried vadams/vada/papads.
The only thing is the sun at the right time, when I need it! :))
TOAMATO SAGO VADAM/VATRAL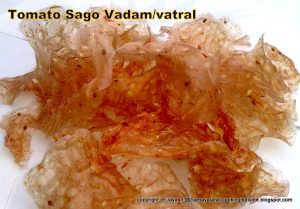 This vatral also uses the same above method but I ground fresh tomatoes pureed them in a mixie and filter them by throwing away the pith and skin then with the other above said ingredients then add to the cooking sago, and proceed in the same way as the above said method.
This was a new Idea I got from
H.chandana's
blog, thanks chandana for this recipe. we all loved it and enjoyed it.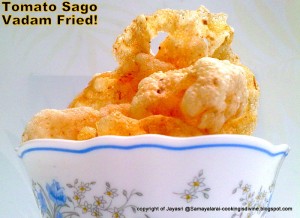 My other version was Green Sago vadam – I grinded
!/4 bunch of Coriander leaves
1/4 bunch Mint leaves
3 sprigs of Curry leaves
1/4 bunch of Parsley
4 to 5 sprigs of Dill leaves
1/4 cup of Thyme leaves
All these I washed and grinded into a smooth paste and added as I did like the Tomato vadam when the sago was cooking with enough Salt and Asafoetida to taste. Once everything was ready I sun dried them as the same way, Here is the click of the Green sago vadam…
This is the sun dried vadam and this is when it was fried…..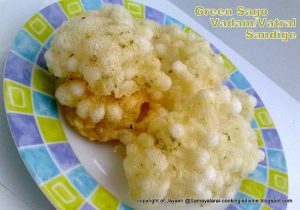 I know it doesn't look very green but I used lot of sago in it.., you must be wondering I added so many Green leaves in it, well, I grew them at home! and did not know what to do with so much, My H gave me this idea as I was moaning that it might get wasted.
I am sending this to
PJ's – Healing food Tomatoes event
, started by Siri's Corner –
Healing foods event
. and I also want to send this to as Sharmie's Let's munch –
Light tea time snack
event, this idea came to me because I just remembered my friend calling me yesterday told me she fried all these goodies and other vadams as an evening snack with a cup of tea in the evening ! which I took as a little parcel to her when I visited her last weekend.