I got this recipe from sister's book, actually the book says I have to wash & dry sago in the sun and then grind it into a fine powder, as I am little short of sunshine and time! I omitted this process and tried the recipe and it really tuned out very well!!. And I did some changes my liking to the batter, it did not call for urad dal,  which I added, and then increased the amount of Sabudana and also little methi seeds which I usually add to all my Dosa and Idli batter irrespective of any kind!
The second method is my recent craze of adding millets and trying out recipes, they also can be made into Idlis, I should try that out and see! Every time I forget!
SAGO DOSA (SABAKKI DOSA)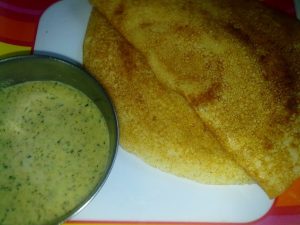 METHOD I
Ingredients:
3 cups of Raw Rice
1/4 cup channa dal
1 tbsp Methi seeds
1/2 cup Urad dal
1 and 1/2 cup Sago pearls / Sabudana
1 cup slightly soured curds (yogurt) Or Water as Needed to soak Sago pearls
METHOD II
1 & 1/2 Cup Sabudana or Sago pearls
1 & 1/2 Cup Prosco / Varagu millet
1 & 1/2 Cup Barnyard / Oodalu millet
1 tbsp Methi seeds
1/4 cup Channa dal
1/2 cup Urad dal
METHOD
Grind sago into a fine powder as much as possible in a mixie and soak it in soured curds for 2-3 hours
Or just soak just sabudana in water
Meanwhile, Soak rice & Dals around 3-4 hours
Or if using the second method soak millets and dals 5 to 6 hours and grind them with Sabudana
Once they are well soaked, Grind them all together into a fine dosa batter, which is now ready to go on the tawa
Make nice crispy dosas and relish with your favourite side dish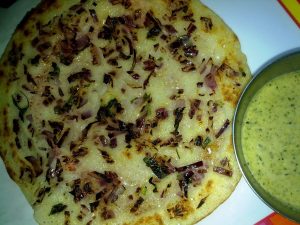 METHOD
For the same plain batter you can add
fine chopped onions
required quantity of green chillies according to your taste buds
finely chopped coriander leaves a few sprigs
finely chopped curry leaves a few sprigs
Mix & keep these aside and as I have told in
Onion Uttapam
after spreading the dosa a little bit thicker than the plain dosas sprinkle this mixture and roast it on both side and serve.
SAGO GUNTAPANGANAALU/GULIAPPA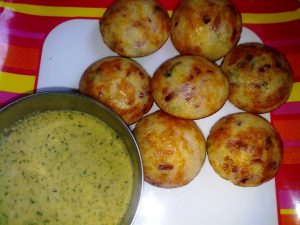 First of all I like to thank Suchi my friend who bought this Guntapanganaalu chetti from India, when she went back for her son's first birthday celebrations, with all the celebrations and very less time to stay and with her time limit she never forgot to bring this for me, which I kept forgetting whenever I went back, she gave this as a present to me!!, how very kind of her. Thank you suchi for your thought.., we all loved and enjoyed it so much.., Coming back to the recipe...
With the above plain batter mix the chopped ingredients mentioned in onion uttapam and pour them on to the guntapanganallu chetti with a drop of oil on it, as it is a non-stick one it does not require more oil to cook, here we go lovely guntapanganallus in few minutes.
Actually Guntapanganallus are usually made the next day after the use of leftover Dosa batter as it turns a bit sour so, it gives a sour taste and gives more relish to the dish, I made them immediately because I had used soured curds in my batter which was perfect for it!!