Hi everybody, hope all of your are doing well, I was planning to do a Bread post but changed it to this simple Rasam.
Rasam is such a comfortable food, that nobody would say No, I think. I used to love Rasam from childhood, but still shouldn't tell lies right ?, Sometime I would love to eat it just like that but most of the time I would always demand that I need something to go with it, like vadam ( papads in different ways ), later stages I would go with some dry curry then on I still love eating it with Onions, Cucumbers or Tomatoes, and do you know one another thing I would love to eat Rasam with is Pulkas / Chapatis :)). Oh! that's my favourite too.., writing this is making me nostalgic reminding me of how my Dad used to chop all the veggies in a plate and keep it in a designed pattern, he still does this to his grandchildren, My kids love to have food in my mom's house not just because it is paati's cooking ( Nan's cooking). It is because how my Dad does these little things which is very interesting for them!!.
Coming back to this recipe.., A little twist to our authentic Rasam.
Check out my little tips for variations for this recipe.., hope you enjoy and try out and tell me how you like it...
Look at the Lovely colour of my Rasam..
ROASTED RED BELL PEPPER ( RED CAPSICUM ) RASAM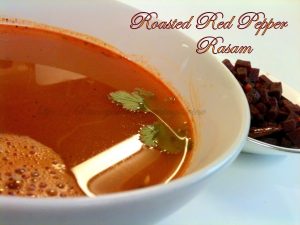 INGREDIENTS:
1/4 Cup Tuvar Dal
1 Tomato
2 Red Bell Pepper
1 Onion
2 Cloves of Garlic
2 tbsp thick Tamarind juice *
2 twigs of Curry leaves
2 to 3 tbsp of Coriander Leaves
2 tsp of Salt
1/4 tsp Sugar
2 to 3 tsp of Rasam Powder **
A pinch of Hing (Asafoetida )
1 lt of Water
SEASONING:
1 tsp Mustard seeds
1/2 tbsp of oil / Ghee
1/2 tsp Jeera /Cumin seeds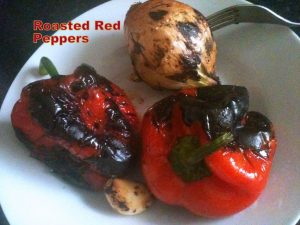 METHOD:
First of all wash the lentils - Tuvar Dal, and Tomato with a cup of water and a tsp of turmeric cook it in a pressure cooker up to 2 or 3 whistles.
Meanwhile apply a bit of oil on Red Pepper, Onions , Tomato and Garlic cloves ( do not remove the peel ). Keep all this on a meshed plate on the stove top.***, keep the flame in a medium flame and roast them turning them now and then until you feel that they are kind of roasted and cooked.
This can be noticed in different ways, do not roast it too much where the skin becomes too black, if it is a bit blackened here and there, it is fine. Tomatoes starts oozing out the juice.
As I don't throw away the blackened bit, which is the one gives the roasted flavour to the Rasam.
Once you have done the roasted bit, take them out and allow them to cool down. Grind the cooled Roasted bit into a smooth paste.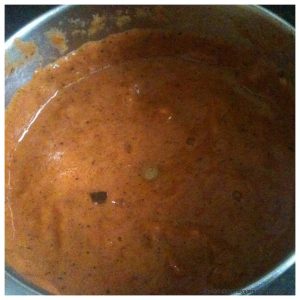 Take the cooked Tuvar dal in a big vessel ( A vessel which fits around 1 and 1/2 lt of Water).
Add Tamarind Juice with 2 Cups of water and allow it to boil, for 3 to 4 minutes, then add the Ground paste and required quantitiy of Rasam Powder, Asafoetida, salt and sugar.
Allow them to boil for further 3 to 4 minutes, then add the remaining water. Increase or Decrease the quantity of water according to your liking then add finely chopped Curry leaves and Coriander leaves. Bring to a low flame from medium flame.
In a small pan heat oil / Ghee, once hot add mustard seeds and cumin seeds , saute them when they splutter ****, switch of the stove add this seasoning to the Rasam.
Enjoy it with hot Rice and a dollop of ghee and with your favourite Dry curries . Papads or Salads of Veggies....
Tips :
You can even omit Tuvar Dal if you do not want to use it.
* Tamarind Juice - If you are using fresh Tamarind use around 15 grms of tamarind flakes soaked in hot water or In a microwave safe bowl, take Tamarind flakes and 1/2 cup of water and heat it for just 1 minute. It will be very hot, leave it for few minutes or if you want to use it immediately add 1/2 cup of cold water which brings down the temperature and allows you to squeeze the Tamarind juice or use the ready made one.
** If you do not have Rasam Powder try this powder which gives you a flavourful rasam.
Quick Rasam Powder:
1 tbsp Coriander seeds,
1 tsp Cumin seeds, `
1/4 tsp Fenugreek seeds,
1/2 tsp Black Pepper,
1/4 tsp Mustard seeds,
3 to 4 Curry leaves
5 to 6 Badgi chillies ( If you don't get Badgi chillies then get some Kashmiri chillies, which gives colour and some birds eye chillies according to your taste of spiciness/ hot you like )
METHOD: Heat a tsp of oil , first add fenugreek seeds when they turn golden in colour add the other Ingredients and fry all of them in a low flame, so they don't get burnt away and every thing fries as needed, Other wise you can fry each of them separately but use oil only once. When cooled grind them into a smooth powder. use this instead of Rasam powder.
*** Meshed plate is something like this I use.. (will post the photo soon )
**** Splutter - If you are new to seasoning be careful, you can close it with a lid otherwise, as they splutter haywire and it might hurt you .
I served this rasam with a simple Beetroot stir fry...