Hi everybody, hope you are enjoying your Christmas Holidays. Tomorrow is Christmas Day much awaiting for everybody..., Here is a quick post for
Champa's Bake-a-thon
, having a very busy day yesterdays and Day before, My body is just aching to get to the bed.
Let me get to this post quickly. I had a large pumpkin a few days ( kind of months I could say....), back, I had few portion of it left over.
I started of with doing something and ended up doing an other thing, I peeled and chopped the pumpkin to pieces that was when I changed my mind and ended up making this bread.
ROASTED PUMPKIN AND CARAMELIZED PECAN BREAD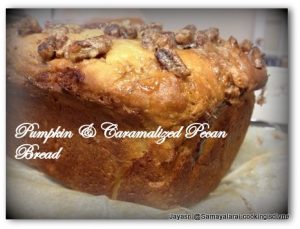 INGREDIENTS:
1 cup Roasted Pumpkin
1/2 Banana
350 gms Strong white flour
1/4 tsp salt
25 gms Unsalted butter softened
60 grms Brown sugar
1/2 tsp Cinnamon powder
1/4 tsp Grated ( powdered ) Nutmeg
50 - 70 grms Pecans
150 -200 ml water ( Use it as needed)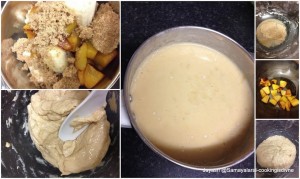 METHOD:
Chop and peel the skin of the pumpkin, In a pan just with a 2 to 3 tsp of oil Roast the chopped pumpkins until they are well cooked and allow it cool.
Meanwhile take yeast add a bit of warm water, confirming that the yeast is active with the bubbles forming.
Meanwhile grind pumpkin, Banana and sugar into a find paste,
Add this grinded mixture into the yeast bowl, mix well then add the flour, start adding water until you form a stiff dough.
Knead this dough for at least 10 minutes, until the gluten has completely started to react.
oil the surface of the dough put it in a bowl and leave to ferment it until it is double in size.
Menawhile in a pan take 2 tbsp of water and around 1/4 cup of sugar when it starts caramalizing add the pecan and leave it until cools down.
Preheat the oven to Gas mark 5 / 180 degrees C.
Now punch the dough shape it into a loaf tin , and leave it for second rise.
once it rises now top the risen bread with caramalized pecan and then brush it wth milk.
Put it in the middle rack and bake it until the skewer comes out clean aound 50 minutes.
Once the Bread is done, remove it on to a cooling rack, within 5 mintues remove the bread out of the loaf tin and leave it upside down so that the bottom becomes soggy.
slice it up and enjoy the bread with jam.
Check out Champa's, Priya, Preethi, Srivalli, Sumana and veena who are baking with me...