This Book makes me cook
, is a book club by few bloggers, with whom I joined with, just to read some books at least once a month!!, these days I have never been able to read any serious books at all, when I found this club, I was truly happy and they also welcomed me into their club. This is my second book, This time again I got hold of this book only after the 15th of last month, I was a bit confused with the posting dates, which I came to know a little late, Now I know exactly when to post the next one!!, Anyways as usual I think I am the last one to post!!.
This month (april) book choosen by the book club was
"Julie and Julia"
, 524 recipes, 365 days, 1 tiny apartment by Julie Powell.
As many of you who might have read the book or seen the movie know that Julie powell is a secretary who lives in a tiny apartment with her husband and how she found this book in her mom's collection and her saga or journey through this book of Julia Child's Art of French CoMastering the oking, and this is how the project was born!!
Julie begins to cook everyone of the 524 recipes in the book, within the span of just one year- 365 days!!, Once she plunges herself into this project, she just thinks only about this, it just becomes a breath to her life, The life with her family, friends and work all becomes secondary in her life when she starts the project.
The book particularly I liked in it was her hard labour in trying out all the recipes to the perfection of Julia child, was quite a tedious task for somebody who knew very minimal things about cooking!!, her journey was really a tough one, as she had issues mentally with some of the things which wouldn't eat!!.
The other thing was her husband's involvement in her project was what I most appreciated, juggling between everyday work, his sickness and his wife's project, hats off to him, caring and encouraging her in every step of her project, sometimes his defensive tactic of selective hearing as julie says, made him survive with his wife's venture!!.
what I didn't like in the book was too much of the 'F' word, and talking too much about sex was what I did not like, there was not much of anything about the cooking or baking, as what I had expected!!, Nothing much about Julia child at all, The book is all about her struggling with her life and her living with her family and friends, I could see some of the names of some dishes and reading it I came to know that it is more about cooking meat and not much vegetarian cooking in it.
In the end I felt really sorry for Julie as she felt that she was not at least recognised by Julia child, but as she herself says – what it takes to find your way in the world, It's not what I thought it was, – I don't know confidence or will or luck. Those are all some good things to have no question , But, there's something else something that these things grow out of – It's Joy!!.
I do not blame Julie, being a blogger myself, I know how each one of the bloggers out there dedicate their life into blogging and how much it involves and revolves around their life, through this book I take this opportunity to give a big bow to all the food bloggers who love their bleeders and think them as part of their life.
Meryl streep as Julia child has taken the movie into an excellent setting, she just blends in with Julia child's character and feel us more rapport with that lady in name and fame. After seeing the movie 'Devil wears Prada' I am a big fan of Meryl streep and just loved her in "Julie and Julia" too!!.
I should say that I loved the movie than the book, Reading a lot of MAofFc in googling I came to know that this Recipe was the last in her book, as I think I am the last one to write about this book, this would be quite an appropriate choice, I really do not know if Julie or Julia would approve my cake…, but as Julie says I tried my best to bake this cake!!
REINE DE SABA (QUEEN OF SHEEBA CAKE)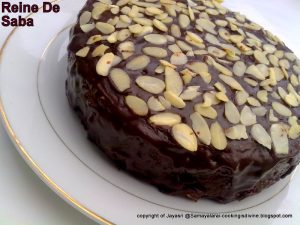 INGREDIENTS:
3 Oz Semi sweet Baking Chocolate
1 oz Unsweetned chocolate
2 tbsp Strong coffee (dark rum)
1/2 cup Unsalted butter at room temperature
1/2 Cup Granulated Sugar
3 egg yolks
3 egg whites
1/4 tsp Cream of Tartar
pinch of salt
2 tbsp Granulated sugar
1/3 cup blanched Almonds (Pulverised in blender with 2tbsp of Granulated sugar)
1/4 tsp Almond extract
1/2 cup Plain bleached Cake flour (I used Self-raising flour)
METHOD
Preheat the oven to 350 degrees (Gas Mark 4)
In a sauce pan melt both the chocolates and strong coffee (/dark rum) by using a double boiler set over a pan of 2 or 3" of water, combine and let chocolate melt stirring smooth and turn of heat
In an another bowl take softened butter, beat it add sugar and yolks and beat until soft and fluffy
In an another bowl beat the egg whites add cram of tartar and salt and beat until soft peaks are formed add 2 tbsp of sugar and beat until shining peaks form leaving a trial behind.
Now Blend the warm melted chocolate into the yolk mixture, then blend in the ground almonds and almond extarcts.
Immediately stir in 1/4th of egg whites, delicately and rapidly fold in the quarter of the flour, this way alternatively keep on adding the egg whites and fold in the flour until completely both of them are used up.
Then fold this mixture into the cake tin immediately and press in well with the help of spatula and bake this in the lower middle rack of a preheated oven
Bake the cake for around 25 minutes or until a tooth pick comes clean when inserted in the cake, But, You need to keep in mind the cake in the middle should be still soft or glooey, and should move when shaken.
Remove it from the tin once it is cooled and then do the Icing.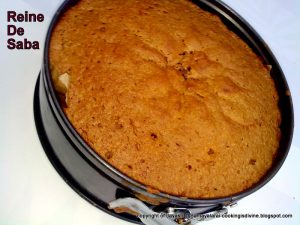 I did a chocolate Icing with :
4 oz of chocolate
A knob of butter
1 tbsp of sugar
1 tbsp of milk
I melted the chocolate, with knob of butter, sugar and tbsp of milk and made an Icing on to top it.
I had a real problem my cake tin which locks is loose came of when I lifted it to put it in the oven, came off and I felt like crying, and i tried my best to push the mixture into the tin and I had no hope that it would really bake or not !!, thank God!! it did bake and came out really well, I really wanted to show a piece of how it looked but my kids were more interested in eating it than taking photos!!, when I came back I saw that they had just left me a piece of it and as it was late in the night I dare not take any photos, As most of photos are crap !!
I used some flaked almonds to top it which I saw in one of the blogs, when I googled for this recipe, I had 3 to 4 blogs to go through for this recipe, then I decided to take the recipe from this blog and Nigella's blog which were almost similar.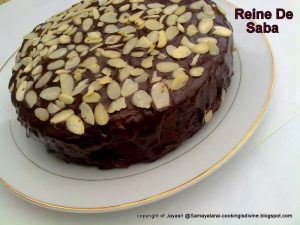 I was not really very precise with the measurments as oz/gms/cups differ a little bit which is very difficult to measure so I have just rounded of and I used a little bit of more sugar, the best was the Icing I made it was really stupid of me when I melted butter and chocolate they were perfect, as my family has a sweet tooth I thought I will add a tbsp of sugar and when I added it started to become hard and then I added milk and made it little liquidy but it was curdled up so then again I added 2 more pieces of chocolate and then it gained back its shining consistency!!.
Hope you all enjoyed my post as I enjoyed this cake!! c u soon…, I think I will be on time for the next time.
will be off to see what my friends have cooked from the book… and you also my friends do check out their blogs.