When I saw this in her blog, I was so interested because of two things, one is the bright colour and the other is the beetroots. As I have told you in my previous posts, she does a lot of Ground work and you have to read about it in her blog. She says it is so famous in US and goes on telling a story about a lady who was impressed that she really wanted to try it out on her own and asked for the recipe, but was refused and proceeded on buying the recipe and was charged so much, I mean a way too much, that she took her revenge by giving the recipe to every one!
She even quotes from New york times, which I think you should read it in her blog and here is the link to the original recipe. She has a group of twitter friends who experiment new things and this was one of them, she says she adopted this recipe from Hannah's seeing Red, I adopted this from her blog with the changes she made to the originally recipe. The only variation I did was getting very tempted I added my flax seed mixture. Check out her blog about all the information about this gorgeous looking cakes.
As she says the cakes sold used the Red colour or the beetles, which we cannot use as a vegetarian she says substituting beets was a wonderful trick. and it certainly looked Red.
EGGLESS RED VELVET CUP CAKES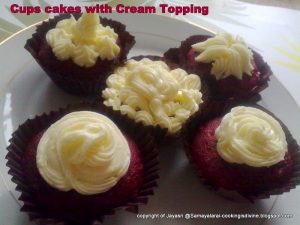 1 and 1/4 cup All Purpose Flour
1 and 1/4 cup Sugar
1 and 1/2 tbsp Cocoa powder
1 and 1/2 tsp Baking powder
1/4 tsp salt
3/4 Cup Pureed beets
1/3 cup oil
3 tbsp Lemon Juice
1 and 1/2 tsp vanilla essence
1 tbsp Flax seed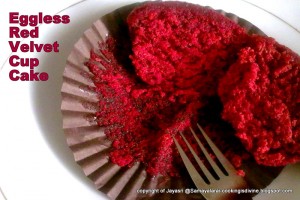 First of all I took fresh medium sized beets as Aparna did, peeled and cooked them until soft, with 2 to 3 tbsp of water make it into a puree and keep aside until needed.
Mix all the flour, sugar, cocoa, and Baking powder and salt in a bowl, then take an other bowl whisk together Pureed beets,oil, lemon juice, flax seed powder, vanilla extract lightly so they all combine together well, then pour the dry ingredients mix well combined pour this into 12 cups equally.
Bake the cakes at 180c for about 20 to 25 minutes (I took a little longer), it totally depends on your ovens, insert a tooth pick to check if it is done then cool them on a wire rack.
Once it is cooled decorate it with any frosting of your choice, Aparna tells us that it is usually served with a butter roux frosting or cream cheese frosting.
But she has served it a mascarpone frosting, She has made her own mascarpone cheese but I used shop bought, as I had not planned on this, and on a whim I made these cup cakes!
So, here goes how you have to make this frosting....
3/4th cup cream
1/4 cup sugar
1 cup Mascarpone cheese
1 tsp vanilla essence
Beat the chilled cream first until stiff add sugar and vanilla essence and beat well until it incorporates well, I used a masher and break open the mascarpone lumps, Add this to the whipped cream and beat on well just as long as it gets well Incorporated into the cream, as she points it is quite soft and is better to keep it refrigerated,
Then I decorated the cup cakes as I desired.
My Verdict:
The cakes were good as any eggless cakes were, the frosting made it extra special, kids liked it but not too much as they thought it was weird to use beets in a cake!, then I sent some to my friends who said it was quite nice and liked it!, My husband never touched it as he hates Beetroots!, I have to always beg him or forcefully make him eat the dry curry I usually make.
Take an other look at my Red cup cakes..........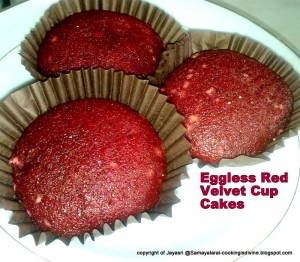 The cakes were not only
RED
but my hands were too..
I am sending this of to Tried and tested event of Zlamushka's, being carried on by Lakshmi and this month hosted by valli of cooking4allseasons.
Hope valli will still accept my entries, as I have tried but not able to post them on time...