Rava Dosa is Lacy thin Crepe which is spicy and crispy is an authentic south Indian Breakfast recipe. served with coconut chutney and Potato saagu / kurma.  Rava here used is called fine semolina, not the coarse ones.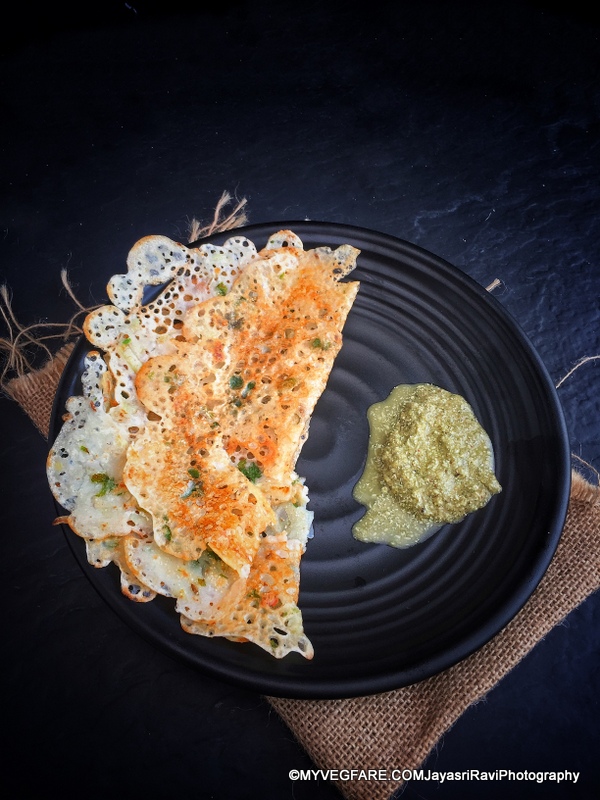 This is another wonderful Dosa in the south Indian Restaurants and Darshinis.  They are absolutely mouthwatering and comes in different shapes and with different chutneys and subjis to go by.  It is really an art to make this Dosa you cannot spread them like your ordinary Dosas you have to pour this Dosa from a little height and should be more watery so, when you pour it around the tawa it tries to spread on its own and it needs your help too..., Once you get used to it and the consistency you will do a great job and you should pour it more thin and crispy.
---
Lacy thin Crepes which are spicy and crispy and are known as Rava dosa is an authentic south Indian Breakfast recipe. served with coconut chutney and Potato saagu / kurma
Recipe Author: Jayasri
Recipe Type: Breakfast
Prep time: 2 hours
Cook time: 5 to 7 minutes
Shelf Life: 2 days
Serves: 5
---
2 cups - fine semolina/chiroti rawa
1 and 1/2 cups - Rice flour
1 fist ful of plain flour/maida
2 onions
4 to 5 Green chillies (optional)
1'' ginger
1 to 2 sprigs of curry leaves
2 to 3 coriander leaves
salt to taste
oil to cook
Mix Rice flour, maida and Rawa and using  water and making it into a very thin dosa consistency
Chop the onions, chilies, coriander and curry leaves finely and mix them with it
Add required amount of salt
Leave this Dosa batter for one or two hours
Check the consistency again, as semolina would have absorbed water! add more water.
Batter should be very thin not like a dosa batter
Make Dosas with the batter, pouring it little from  above around the tawa evenly, so it spreads on its own, it is just a practice and you will get it soon enough
Toss it around and cook on both the sides or just on one side
Serve it with coconut chutney or aloo subji or saagu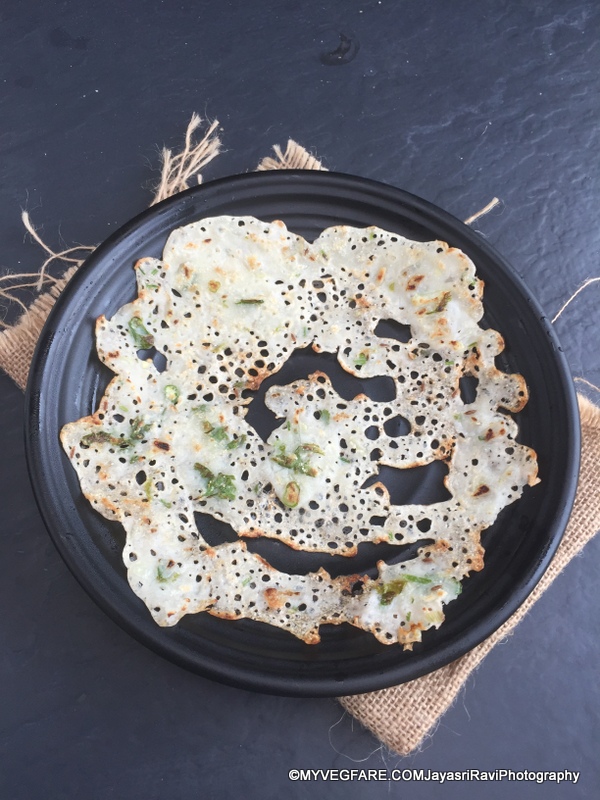 NOTE: Important:
For this particular Dosa the Dosa should be very thin pouring consistency, not like the usual Dosa batters, only then Rawa dosai will be crispy and comes out very well
If the batter thickens keep adding water.
Every time when you make Dosa remember to mix it before pouring as semolina will settle down in the bottom
You can onions, chillies and coriander leaves to the batter or mix them up and sprinkle them on top of the batter once you pour it on the tawa
Another method sprinkle the onion mixture on the Tawa randomly and then pour the batter into it.
You can also add 1/2 cup of Yogurt and then rest water to make this.
Have a lovely time making these spicy Dosas which are really tasty to eat !!.