Hi, everybody as again I am late posting my recipe, not that I made today or yesterday, will you believe that I made this thrice past 2 weeks, I love Bengali sweets too much as they are not as sweet as the south Indian sweets and is made of milk!!, I basically love all milk based sweets...
This month when
srivalli of spicing your life
asked us to make Rasmalai for the Indian Cooking challenge, I was way too thrilled it's been a long time I made this, I first learnt this sweet from my Padma manni, she is an expert on this, it has been a very long time I made, as I always ended up making authentic south Indian sweets more often.
Thanks valli, I had such a gala time eating them....
My twins had their birthday on the 15th and one wanted Rasmalai and the other Rasgulla so I made it half and half !! pleased them both.
Rasmalai is as the name itself tells you is made of malai, that is milk being condensed, where in the cream is quite thick and is gogeously flavoured..,
It is basically a very easy sweet to make and you can even make it the day before if you have a party or friends visiting you and serve them chilled., for the hot summer it is such a slurpy sweet.
RASMALAAI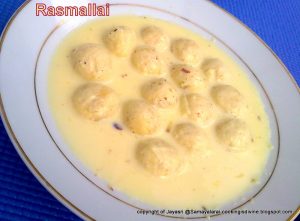 INGREDIENTS:
Milk 3 litres (2 litres for making for the Paneer (Ras) and 1 litre for making the Malaai/condensed milk)
3 tbsp of vinegar
5 cup Water
16 tbsp of Sugar (8 for the sugar syrup and 8 for Rasa/milk syrup)
saffron to garnish
1/4 cup Pista and Badam finely chopped
1 tsp Maida flour
1/4 tsp of cardamom powder
METHOD
In a bowl start heating milk, and once it starts to boil put a ladle in it so that it doesn't ooze out!!, keep an eye on it and watch out, so its better to have it in a very medium flame, Once the milk starts boils add the vinegar and stir through, while you are stirring you will see the milk getting curdled that is the milk gets separated from the water and this water is called the whey water. The paneer starts floating at the top and the water is below it.
Now take a fine cotton cloth or a cheese cloth and drain this paneer to separate water, do not throw away the water as it can be used in many ways!!
Once the paneer is drained pour some cold water on it so the smell of vinegar is gone!!
Now tie and hang it for an hour so the water is completely drained out nicely squeeze out the water, Now it forms a mass of paneer.
Take this on to the table top and knead it into a nicely pliable dough, so that there is no water content in it and should not stick to the hand, Now add maida and make it into small balls. do not make big balls as they enlarge in size by the end of procedure!!
Now to make the sugar syrup:
In a pressure cooker add water and sugar as indicated (8tbsp) and allow it to boil, drop these balls into it and allow it boil then close the lid of the pressure cooker and let it cook for 7 minutes (2 whistles) then once the pressure is released open the lid, you can now see that they are double in size.
Take them out into a sugar syrup as you can see in the picture below which is also called as Rasgullas!!
RASGULLAS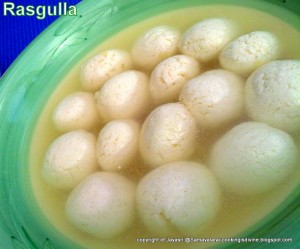 As you can see them in the sugar syrup they become double in size, press each ball slightly to remove excess sugar syrup and keep aside.
Preparation of the Malaai or condensed milk
When you are starting the procedure for the paneer you can start boiling milk in another stove as it takes some time !!, The milk should start boiling and reduce to half of its quantity that is most of the watery portion in the milk will evaporate and the milk becomes more thicker, to this add the remaining quantiy of sugar, chopped nuts and cardamom powder and also the saffor threads, to this add the pressed out paneer balls and leave it absorb the malai and refrigerate it and serve it chilled... and ENJOY.....
You might find the procedure too long but it is a very easy process, you don't even have to measure, you can just take milk and start with the process..
My verdict: Absolutely gorgeous to devour, very easy, no need to measure anything just add sugar to your taste, like me My Ras malaai was far too sweet for the sweet tooths in my zoo.., I even used shop bought condensed milk with my own condensed milk and made it more thicker!!, I added MTR Badam powder, which is gorgeous and smells wonderful.., totally it was great..
Thanks valli for the lovely challenge....
Some tips: Do not use Long life carton milk, they take a longer time to curdle and they are quite sticky too, that is my experience use full fat milk for the lovely consistency, I did not use Maida/ All purpose Flour at all but then also it turned out well, I just did not like the idea of using Maida to hold the balls, knead them well they will be fine., If you are worried just make it with only 1/2 litre of milk! use less quatity of vinegar/Lemon juice.