Hi, I feel great at last I can post something in
Madhu's egglesscooking
blog which hosts whole grain (oats) this month, I have succeeded this time posting something 5 days before !!, Every time, I make something so I can participate and never post them on time and I feel so sad about it. That's about my moaning on this page too.
Let's get back to the recipe, actually this is my cookie or crunchy or what ever you want to call it, I got this recipe from a book called vegetarian cook book, which has loads of vegetarian recipes, but is not a vegan book, I had a pack of brazil nuts and I thought this was the best one I can try, The actual recipe calls for chocolate and one egg which I replaced with Raisins and
Linwoods Flax seed and Goji berri powder
, which I found in a health-wise shop, I just bought a packet as Madhu and Aparna had told me that flax seeds can be used for replacing eggs, unfortunately I had no flax seed powder and fortunately I had this mixed powder which I used in this recipe. Goji berries have lot of medicinal value, even though the taste is really tempting you can use it like bitter gourd for a healthy option. This powder did help and the cookies came out really crunchy, I knew it came out very well because last Saturday night I made then by Sunday evening my box was empty !!!, which has given me confidence in trying some other recipes too !!
RAISINS AND BRAZIL NUT CRUNCHIES/COOKIES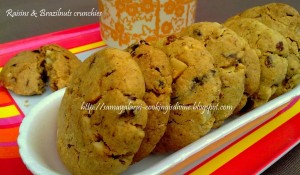 As usual my daughters took the pictures, they told me they took with milk & not with tea as they are not allowed to drink tea or coffee !!,
Ingredients:
55 g/2 oz butter or margarine (I used vegan butter)
55 g/2 oz vegetable fat
140 g/ 5 oz demerara sugar
1 tbsp Linwoods Flax seed and Goji Berry powder (can substitute with 1 Egg)
3 tbsp warm water
1 tbsp Soya milk
1 tsp Vanilla essence
100 g/ 3 1/2 oz plain flour
100 g/ 3 1/2 oz rolled oats ( I used Morrisons Organic oats powdered in my mixie)
1 tsp bicarbonate of soda
1 tsp Baking powder
pinch of salt
175 g/ 6 oz plain chocolate chips ( I used Raisins)
75 g / 2 1/2 oz Brazil nuts chopped
METHOD:
Soak Flax seed powder in 3tbsp of Warm water for few minutes, you can see they fluff up, with this put the butter, fat, sugar, vanilla essence and milk in a blender or a food processor and process for at least 3 minutes ( the original recipe says add egg and when this process is done it says it should be processed until a fluffy consistency is reached), As I had not used eggs I first powdered sugar into a powder and then added the rest of the ingredients said into my mixie and just processed, it was not in a fluffy consistency, I added 3 to 4 tbsp of water to get them out .
Mix the flour, oats, bicarbonate of soda and salt together in a large bowl. then stir in the above processed mixture and fold in with Raisins & brazil nuts, mix well together.
I added little water to combine the mixture into a nice dough consistency.
Then cover the bowl with clingfilm and chill in the refrigerator for 30 minutes until firm
Meanwhile preheat the oven to 180 degrees/350 dF/ Gas mark 4
Grease a large baking try
Make them into 30 round balls flatten them a little and put them onto the baking tray, making sure that they are well spaced.
Bake in the preheated oven reducing the temperature to 160 degrees/ Gas 3 for 15 to 20 minutes or until golden brown.
Leave to cool on a wire rack before serving.
I left it for 20 minutes, scared they might not have cooked in the centre, even though the colour was not so appealing the crunchiness was their and tasted very well.
some more pictures of my crunchies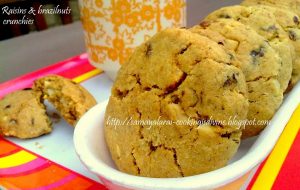 I would like to send this to siri's EFAM- Oats event too...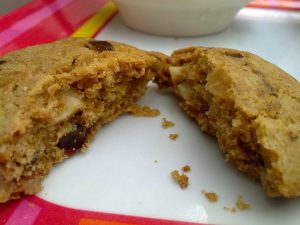 I am sending this to Pari's ''Only Oats event''