Ragda Pattice …. with a Twist ?, So what's new in that, Even though We all know that this one is So,,? good for health, It is difficult for convincing my kids to eat it.., Then I think…. I think….. and find ways to feed them with this Protein Rich Diet, when ever you visit a Surgery here and you tell them you are a vegetarian they tell me I might not be getting the required quantity of Protein in my diet as Meat eaters .. ?, Then I think..Mmm rather thought, which I never thought about it too much about it all the 37 years I was in India!, Nobody told me I might be not getting the RDA of Protein, I sometimes is it true ?, Because My Grandmother lived the Age of 104 without bothering about Protein diet !!, she had perfect hearing, senses, eyes everything only Her age was giving up on her but still she was so adamant in getting her way!. Well, Bless her wherever she is Let her rest in peace.
Coming back to the Recipe, talking about that too much is that Ingredient is nothing but Tofu!, that's what I used in making these Pattice, A little Twist from the Authentic one.., well, it went down good, that's what we want a clean neat plate.., and asking for a second helping from our kids and you know how its going ? right ?.
I wanted to send this to
Tofu event of Seduce your tastebuds of PJ's
and forget to post it on time as always, No excuses sadly :(, I forgot the date !, anyway I will link it to the event, hoping she might accept my late entry if she has not posted her round-up,
(please..please…please.. accept my entry) 🙂
RAGDA PATTICE WITH TOFU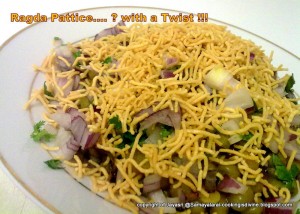 INGREDIENTS:
250 gms Firm Tofu (shop bought)
150 gms Potatoes
50 gms peas
1 tbsp Ginger-Garlic paste
1/4 cup chopped Coriander leaves
1/2 cup chopped mint leaves
1 tbsp Red Chilli powder
1/2 cup Rice flour
1/2 Cup Corn Flour
Salt to taste (may be 1 and 1/2 tsp)
METHOD:
Take the Tofu and squeeze the water out of it with pressing it very well, then Crumble it and keep it aside on a kitchen Towel.
Boil the Potatoes peeling the skin off and peas (I use frozen peas if you get fresh peas it's got a taste of its own right ?).
Clean and chop down the coriander and mint leaves.
Mix Both the flours together.
Take a big bowl, Mash the potatoes, peas and crumble the Tofu thoroughly. To this add G-G paste, chilli powder and Salt to taste. Mix them well nicely with a 1/4 cup of Mixed flours if it's still kind of wet add little more Flour. .
Make nice Lemon sized Balls or like pattice or something the size of a Burger!
Then dip these or coat these pattice in the flour once again, Then Roast on a griddle till brown or Reddish brown on both the sides by adding oil.
Just like in the picture below.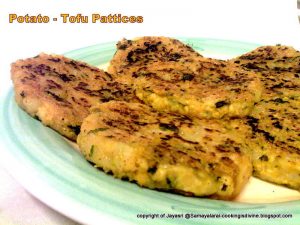 TO MAKE RAGDA:


Ingredients:
250gms of Dry peas
1 tsp Ginger – Garlic paste
1 tsp Garam masala
2 Medium sized Tomatoes
1 Medium sized Potatoe
1 Onion
1/2 tsp of Sugar
1 and 1/2 tsp Red Chilli powder
1/2 tsp Amchur powder
1/2 tsp Turmeric powder
2 to 3 tbsp Oil
1/2 cup freshly chopped coriander leaves for Garnishing
FOR SEASONING:
1 tbsp of oil
1 tsp of Mustard seeds
1 Sprig of curry leaves
A pinch of Asafoetida
METHOD:
Soak the dry peas overnight with a pinch of soda it makes the peas quite soft. Morning drain and wash the peas well and cook them well with 2 to 3 cups of water in a pressure cooker until soft (may be 3 whistles) with the potatoes. Take a Kadai heat oil and season it with mustard seeds after they splutter add curry leaves then chopped Onions and Ginger-Garlic paste fry them well, means when they change colour and chopped Tomatoes when they cook well add the powders and fry them for a few minutes then add the cooked peas with the water mix well and allow them to boil for a few minutes then mash the potatoes and mix it into it this makes the Gravy thick and a bit of Jaggery if preferred. Then add the required quantity of salt and cook for a few more minutes and garnish with coriander leaves.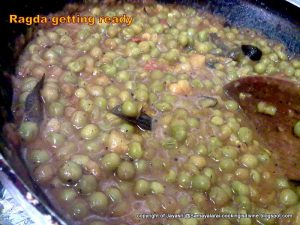 Once the Ragda and Pattice are ready it needs to be served in this way…
Take a plate place the pattice and add Ragda over it and chopped onions if you want you can add grated carrot, Beetroot and if you want add some Sev on it.
You can also serve it with Khajur and Imli ki Chutney (Tamarind chutney or Red chutney) or Green Chutney.


Hope you all like and try it out too…………