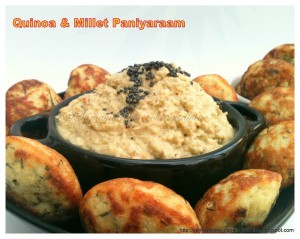 Hi everybody, this is third addition to the BM#14, I want tbe dedicate this recipe to my MIL, you might be wondering why ?. I came to know about Quinoa just because of her. I know you are going to I mean you have to read about it now, as their is no choice right ?because you are here...
Coming to the recipe., My MIL was suffering from Liver Scerosis/Cirrhosis, This disease is basically I believe, comes to people who drink (alcoholism) and hepatitis. God knows why my MIL suffered the doctors in India said some infection when she was very small might have got triggered now (she was 65 when she left us)!. I did not know much about her problem and what she was suffering from or how bad it was.., I have learnt a lot of things about it now. I think around 5 years back she came to visit us she had a visa for 6 months but she stayed with us only for a month, that too just 12 days with us. My kids loved their paati (Gran) to core she was their santa!, anything mum or dad wouldn't buy they knew where to ask :).., This day 4 years back my MIL passed away.., I do miss her. I wouldn't like to lie, we had lot of misunderstandings like most DIL and MIL relationships. But, I think long time relationship and later on living far away changed into a friendly atmosphere, I too started having a different outlook towards life getting older seems to teach lot of things in life I thought I should stand in her foot before standing in mine!. Ok but in the end when she in hospital I was unable to speak with her the worst part I felt very bad was my kids could not interact with her.
So, you would wonder what is the connection with
Quinoa
and MIL, of course their is when she came here, she got very sick and twice we had to admit her in the hospital, The doctors, when they came to know we were vegetarians they were not satisfied and told us that vegetarians do not get good amount of proteins in their everyday diet, I thought ok around 75 % of people in India are vegetarians, but still live for long.
So, I had to give her protein rich diet, that was when I started searching for high protein diet googling around and reading books I found out that soya and Quinoa are rich in proteins. From that day I have been using
Quinoa
in lot of my cooking and baking.
Millet
as you already know is rich in proteins, Calcium, Iron, Magnesium. This grain is good for people who are wheat intolerant.
As I always told you that I usually make something for my kids when they come home from school this recipe suddenly got created one of those days. My kids love it, I make it now and then as it is easy to make.
Do you want to know how I made these..., go on read.... A recipe which is made up of whole grain goodness and protein rich too.., what else do you need.., for feeding your family a healthy diet. You can make it as a breakfast or as a snack when kids come back from school.
QUINOA AND MILLET PANIYAARAM / GUNTAPANGANAALU / POPOVERS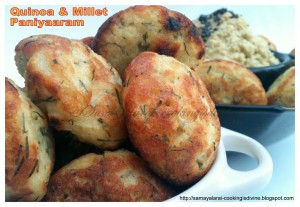 INGREDIENTS:
1/2 cup Quinoa
1/2 cup Millet
1/4 Cup Urad dal
2 tbsp Channa Dal
1/4 cup Chopped Dill leaves
2 Medium sized Onions
1 Green chilli finely chopped (optional)
1 and 1/2 tsp Salt
1 Sprig curry leaves
1 tbsp coriander leaves
A Pinch of of Eno or Baking soda (optional)
oil as needed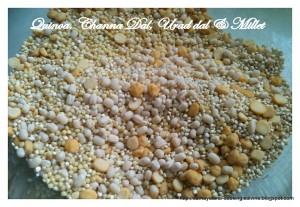 METHOD:
Wash and soak Quinoa, Millet, Urad dal and Channa dal for 1 to 1 and 1/2 hour.
Grind them into a smooth paste using around 1/2 cup to 3/4th cup of water into a Dosa/Pancake consistency.
Chop onions, dill leaves and chillies into fine pieces.
Add these to the batter with enough salt and curry leaves chopped and leave it for 1/2 an hour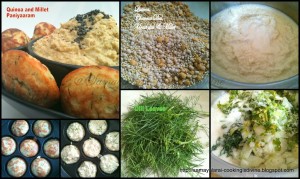 Add a 1/4 tsp of Eno or Baking soda in a tbsp of water and mix it well into the batter before making these.., which is totally optional Or you can even add 1/4 cup of sour yogurt which is also optional.
You can make these without fermenting too. I have made these just like that still it turns out very well crispy on the outside and soft in the inside.
Fill up the Guntpanganalu holes with the batter to its full lightly sprinkle oil on top of it, close the lid and when it cooked 1/2 way through turn it around with the help of a wooden stick which comes with it or with a tooth pick, as mine is a non-stick coated.
If you do not have this gadget you can make little pancakes.
You can even use Aebleskiver Pans for making these kind of Pancakes or popovers.
Serve them hot with Coconut chutney or any chutney of your choice.
Check out my other blogger friends running this Marathon with me from here...
Blogging Marathon page for the other Blogging Marathoners doing BM#14