Hi friends back again ! Surprise, I had to do this or I will miss to post it again like the last T and T of Alka of Sindhi Rasoi, I made, I ate (rather we ate), but I never posted! ha.., I know I am always like this, so I thought however late it is today I am going to do this...
So here come my Quinoa Dinner Rolls which I made from Chefinyou of DK's as the T and T of this month hosted by Priya of Priya's Easy N Tasty Recipes, which was started by Zlamushka of spicy kitchen, which is being taken care of by Lakshmi of Kitchen Chronicles.
I have this love for Quinoa, which I use in most of my cooking, after I came to know as it is rich in proteins which is good for my growing children, I try to add it in different ways in my world of cuisine. I had this mood to bake as my daughter insisted on me making some soup for her when she saw these pumpkin around. But I made her this Sweet potato soup to go with these Dinner rolls, The kids and H enjoyed both, but they wished I could have baked some savoury bread as both were kind of sweet!, well, it did not go to my head then when I made the soup, it was just I thought of attending the AWED event!. well, however it was great and we did enjoy it. Here goes my recipe..., I have tried to include just like DK step-by-step pictures.., DK has taken this recipe from here.., you can check out this recipe in both these blogs....
QUINOA DINNER ROLLS
Do not ask me why I have a photo like this, first time I made a egg wash and this was how it turned out! very shiny!! :))
coming back to the recipe..
INGREDIENTS:
1 Cup Quinoa
2 Cups water
3 tsp salt
1 and 1/2 tbsp Active dried yeast
1 cup water
1/2 cup honey + 1 tbsp
1 Cup vegetable oil
2 Egg whites
2 Cups whole wheat flour
4 Cups Bread flour ( I used 2 cups bread flour and 2 cups Oats flour)
METHOD:
Here is how I made them.....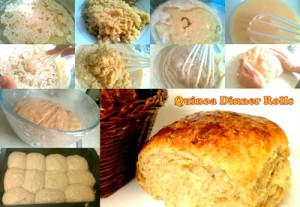 First of all cook the Quinoa seed with 2 cups of water, and drain the water if remaining and keep the cooked Quinoa aside.
Next in a bowl take the active yeast and a 2 tbsp of warm water, mix well, and leave it in a warm place, I usually keep it in my MW for 10 -15 min with the light on you can see the yeast bubbling up, this tells me that the yeast is still active and is in good condition, then I start mixing all the ingredients to it.
So, once the yeast is working its way, I added honey, oil, egg whites salt a tsp of sugar and mixed well with a whisk with 1 cup of warm water . until well combined.
Then I added 2 cups of wheat flour, mixed it well then added cooked quinoa and well combined, then I added 2 cups of Bread flour and 2 cups of oats flour.
I had to use all the flour (not adding the last cup of flour as needed instructed by DK), I do not know why my dough was quite sticky, and I had a hard time to handle it, but I did not use any extra flour, I dipped my hand in oil once and in the flour once (that is I just floured my fingers but did not take any extra flour to knead) and tried to handle the dough and knead it until it was quite smooth and soft, then covered it with a cling film oiling the dough and left it to raise, Once it rose, punched it down again and handling carefully gave it a slight flowery knead to it and shaped them into 11 balls as you can see in the picture and allowed it to raise again.
My dinner rolls were not small as you can see!
I gave the rolls an egg wash, I did not add any quinoa on top as DK did.., just left it to bake.
Meanwhile I had preheated the oven to 425 degrees and pushed the tray into bake for 10 to 15 minutes then lowered the temperature to 375 degrees and left it to bake for an other 10 minutes.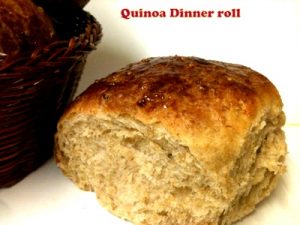 As you can see the rolls were well done, they had a soft interior and a fine crust on the exterior, they had a sweetness to taste, My little girl enjoyed it with Mixed fruit jam and said it was really good. The other ten rolls were consumed by all of us with our soup.
Thanks to Priya, DK, Zlamushka and Lakshmi for this lovely event.., which I do really enjoy....
soon I will post my Tried and tasted from Alka of sindhi Rasoi, which all of us enjoyed in our family.....