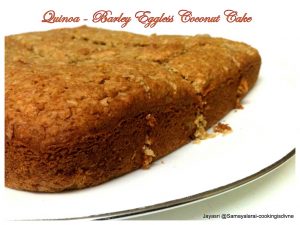 Hi everybody, Hope you are all doing well, me.. ?, Oh! no I will tell you :), bloging is not jsut just about blogging food that's what I have come to know, because I keep writing to you all about my troubles too. When I joined this Eggless Baking Club I thought I will not hold them back, baked this cake as soon as possible but could not post it right on time.., As always left it right to the last, and when time to post it, It just happened very simple because I could not sit in front of the comp because of severe cervical spondylosis., good luck to me, Hopefully, I will finish this post today completely.
Gayatri of Gayatri's cook spot started this Eggless baking and I joined in with her and she asked us to bake this Coconut cake and told me to do whatever I want with the main Ingredient that is coconut as a must and no eggs.., If you would like to join her in the venture drop a line to her.
If you are a regular reader of my blog you would have certainly noticed that I love baking eggless, and here I go with my recipe substituting eggs. Bascially the cake had 3 eggs and the recipe was from indobase.
QUINOA - BARLEY EGGLESS COCONUT CAKE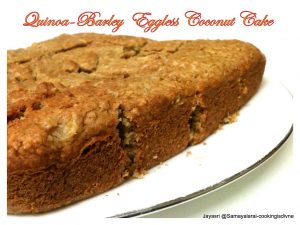 INGREDIENTS:
100 gms Quinoa flour
100 gms Barley flour
40 gms Plain flour
3/4 th Cup Sugar
50 gm Butter
4 tbsp Coconut oil
1/4 tsp salt
1 and 1/2 tsp Baking powder
1 tsp Baking soda
1/4 cup Silken Tofu
1/4 cup Milk
4 tbsp Pineapple juice (optional otherwise use 1 tbsp Apple cider)
1 tbsp Vanilla sugar
80 gms Apple ( I used 1 apple peeled and cored)
100 gms (50-50 sweetened & unsweetned desiccated coconut)
80 gms Pineapple pieces (optional)
METHOD
Preheat oven to Gas Mark 4/180-175 degree Celsius**
Grease a rectangular tin and line with a parchment paper
First of all take all the Dry Ingredients such as the flours, Baking soda, Baking powder and salt, combine all of them well together, sieve it at least three times and keep aside.
Blend Tofu, apple and milk well, In a large bowl take melted butter and sugar cream them together until well combined to this add the blend tofu mixture, add vanilla sugar and combine them all well together.
Pour this liquid mixture into the dry ingredients and blend them well together, here add pineapple pieces ( I used tinned pineapple juice and pieces ) as always do not over mix the batter as it is an Eggless cake.
Pour this cake batter into the tin and bake for 30 to 35 minutes until a skewer comes out clean.
**My oven is slightly showing different temperatures, so I usually bake my cake on Gas Mark 3, so My cake was white in colour, when I increased it a bit more it started giving colour to the cake, so it is better to know your oven and bake the cake.
Once baked take it out of the oven and leave it on the wire rack for 5 minutes then invert the cake on to the wire cake until it cools down, then turn it around and slice them into pieces and serve it.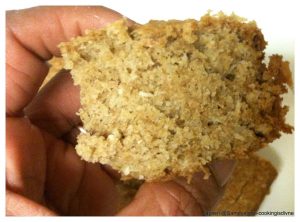 As you can see it was well baked, next time I have planned only one flour either Barley or Quinoa, The cake wasn't too moist, My eldest daughter was saying eating this cake reminded her of Sankrathi yellu - Bella mixture! :), The kids liked it ( I wouldn't say loved it, as I used different flours plain flour has a different texture and taste right ? ), well, they have come to terms that mum will never use just plain flour and will definitely muddle up the recipe, they like it, sometimes they just love it.
The best thing happened was H's friend visited me, I offered him the cake he really loved it, and took an other piece as his partner is a vegetarian I offered some cake for him to take home for her, he was delighted and actually asked me if I didn't mind he would take extra pieces :), I was over the moon so I gave him half the cake and the rest was consumed by my family!, Now I have to bake something again....
Totally I was really pleased as I was happy I baked a healthy cake and my kids had a healthy treat.., you try out and tell me how it turned out and did you like it ?, I would really like to hear from you...