Hi everybody, visitors of my blog would know that I love Quinoa
and use it where ever possible in my recipes, I use them in Baking, cooking in gravies, powder, My flat breads etc., when I was searching for some recipes I would be able to make in Priya's blog, I had seen this and I had Book Marked it, I have made this 3 to 4 times I think and use it in all my recipes. I even created my own Quinoa spice powder mixture later on and enjoy both the powders, this is a keeper recipe and I will post some recipes using this powder. Thanks for this lovely powder priya, and I would certainly recommend to all my blogger friends should try it out and you will love it.
QUINOA AND POPPY SEEDS POWDER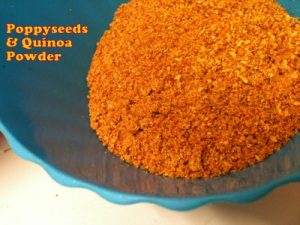 INGREDIENTS:
2 tbsp Poppy Seeds
2 tbsp Quinoa
2 tbsp Coriander seeds
2 tsp Channa Dal
1 tsp Urad Dal
Salt as Required
METHOD:
Dry Roast Poppy seeds and Quinoa until they change colour, and nice aroma comes out keep it is aside.
Again in the same wok with a tsp of oil fry the other ingredients with out salt and fry it well until they change colour.
Once they are cool grind them into a coarse powder in an air tight container.
You can use this stir-fry or dry curry recipes. It's a really good one and a keeper
This goes to Tried and Tasted event from Priya'seasyntasty reicpes hosted by PJ of seduce your taste buds, started by Zlamushka and is now taken care of by Lakshmi of Kitchen Chronicles.