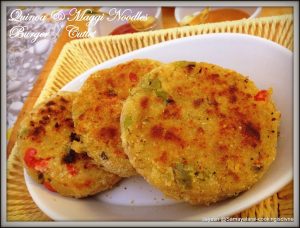 Who doesn't like ''Maggi 2 minute Noodles'', I think nobody would say No!, Yes, these noodles have been in India as part and parcel of our life for around 25 years now!, right from kids to adults everybody loves this, It is basically I would say a quick food for hungry kids when they need it something quickly, Perfect Bachelor food sometimes and loads of adults love this quick tasty Noodles.
If you have seen the advertisement of Maggi it says you need exactly 2 minutes ready made food. So, why is it so popular in India, it is because of its Taste Maker Masala which comes with the packet. These days you get just the Taste Maker and Maggi Masala in liquid form separately which you can use with noodles.
Now Globally you can see different types of noodles, healthy noodles made with whole meal flours, Different flaoured and coloured noodles, but still these noodles are very popular, My kids don't mind eating it everyday, when they are back from school, after coming here, they say they feel they are in India, when they eat Maggi Noodles.
I do buy them very rarely and then and use it when I am unable to cook but try to make it with lots of fresh vegetables, making sure to making it more healthier.
Like in the advertisement it says, '' do minutes'', It just needs 2 minutes as it needs just water, the masala is in the packet itself and noodles of course, dump everything together in hot water and cook for 2 minutes.. Lo! your yummy Maggi masala is ready to devour.
This Month
Radhika
had assigned me to
Charul of Tadka Masala
for
Blog Hop Wednesday
, she has lot of authentic punjabi recipes in her blog with a lot of lovely colourful photos, tempting you to try out or pick me up :)). While I was going through her blog, I had planned to make Mathri then I was interested in her Amla Mirch Sabzi which was new to me, may be someday if I get hold of some Amla here somewhere!!, I will have to try this out, it was looking so appealing., But decided on this one as day always starts and ends with my kids! ha!, it was my kids home time so I had to do something for them.., this would be perfect. I changed a few bits in this recipe, just to make it a bit more healthier.
QUINOA AND MAGGI NOODLES BURGERS
Recipe source : Adapted from Tadka Masala with some changes.
Makes : 14


3 Packets (85gms each) Nestle Maggi Noodles
1 Big Green Bell Pepper ( Green Capsicum )
1 Big Red Bell Pepper ( Red Capsicum )
15 Mangetouts
1/2 Fresh Green Peas
2 Medium sized Potatoes
1/4 Cup Quinoa
1 and 1/4 Cup water***
1 and 1/2 tsp Ginger Garlic paste**
2 tsp Coriander seeds powder
1 tsp Cumin powder
1/2 tsp of Paprika/chilli powder
1/4 tsp of amla powder
1 tsp Chat Masala powder
1/2 tsp Kitchen King Masala
1 and 1/2 tsp Salt (or as required)
3 to 4 tbsp of Chopped Coriander leaves
Water as required*
1/4 Cup Oil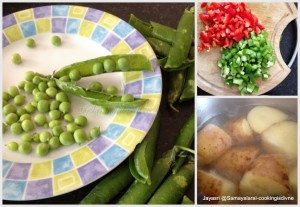 FOR THE COATING OF THE BURGER
2 tbsp each of Corn Flour and Plain Flour
1/2 Cup water
1Cup Bread Crumbs ( Home Made )
I make my own Bread Crumbs with 1/4 cup Walnuts and 4 to 5 slices of Brown Bread, Mixie them together and allow it to dry out.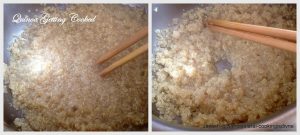 ***This water I have used to cook Quinoa
** I usually crush 4 cloves Garlic, 1'' Ginger and 2 chillies in my pestle and Mortar
* This water I haven't measured so I have said as required to cook the Noodles


METHOD:
First of all open three packets of Noodles and keep aside the taste maker in them if you are going to use this instead of all the masala powders I have used.
First of wash the Noodles with water and discard the water**
cook the noodles in enough water,keep moving them around so they are evenly cooked, until it is cooked, don't cook it too much, this might make the noodles become mushy so keep an eye on it, once it is done, that is you know it is well cooked, throw away the water with the help of sieve and run it through cold water.
Then drain the water completely pressing it lightly and add 2 tsp of oil mix the noodles in it so they don't get stuck with each other.
In a bowl wash Quinoa drain water and cook it in the amount of water I have given, be careful cook it in a low flame keep an eye on it when the water starts reducing so they don't get burnt and get stuck to the bowl, It should be perfectly cooked and with no water in it. Keep it aside until required.
Cook Potatoes in a bowl of water, drain, peel of the skin and keep aside.
Meanwhile wash all the vegetables and chop them into pieces,
In a Pan or Wok, heat 1/2 tbsp of oil, add G-G Paste ( careful they have water content in it if you are using ready made, they might splutter around ) or use my method which is much safer.
fry them for a minute then add all the chopped vegetables and fry them until they are soft but capsicums are still crunchy.
Then add slightly mashed up potatoes mix well, then add all the masala powders and salt, then add a tbsp of oil mix well, Then add cooked quinoa and close the lid and leave it in a low flame for few minutes so the masala is observed.
Then add Noodles and coriander leaves mix once again, close the lid again and leave it for few minutes, Then remove the lid and allow it to cool down a bit, so you can handle it easily.
For the coating of these Burgers:
Make a paste which is not too thin nor too thick with corn flour and plain flour (Maida).
Make Round balls out of the Burger filling prepared, Press them in the shape of Burgers Dip them in the Corn Flour Paste then Press them on the Bread crumbs coating them completely.
Either Deep fry them or Toast them on the Pan / Tawa with a bit of oil until it turns Golden brown or put them in the grill for few minutes until they are golden in colour
If you want to turn it into a Cutlet, either deep fry them or Shallow fry them.
serve them Pita Bread, Buns or Baps or just like that with your favourite Sauce, Ketchup etc..,
Some Tips:
I do not use the Taste Maker provided with the Maggi Noodles will update about it soon
If you do not like Quinoa you can omit and make it as said above.
You can even trying making it with Bulgur Wheat if you are unable to find Quinoa
There is no Particular set of vegetables you can use Cabbage, carrots, onions etc.., you can add veggies which your kid doesn't like which can be hidden in this.
Instead of the Paste I have suggested you can dip them in Egg as they do commercially and then dip in Breadcrumbs and proceed.
Enjoy!!, Thank you Radhika for this opportunity and for the lovely blog you assigned me to., thanks Charul enjoyed your blog immensely.., Sorry for posting this really late, lots of things, thought first I will make use of the sudden sunshine to sort my garden out, then fell sick with severe Hay Fever, which I never had from past 6 years, Lots of work as kids have exams, life is very busy these days. Do check out here for the Lovely round up of this month BHW here from my fellow bloggers.
I am sending this to Shobha of Good Food's - Cook it Healthy (Proteinicious)
PJ of Simply foods - Barbecues and picnics
Sending this to Sumeesculinary - Bon viviant - Apetizers and starters
Radhika of Tickling Palettes - Let's cook 16 - Kid's Special
Divya's Culinary Journey - Fun in the sun
Vardhini of Cook's Joy hosting srivalli's Kids delight evening snacks/Tiffin