Get a day off and you would think the whole day is yours and yours only, may be somewhere I had this little teeny weeny bit in my heart saying No no.., everything won't turn out as you want, I always go straight to my conservatory with my cup of tea Mmm..., and the plants I adore trying to save them from this cold winter, a pity I don't have a heater in my conservatory which would have made my plants have a warm surrounding, but poor little darlings have no such luxury, everyday I pray please don't die on me, I talk to each one of them, that's started my day off, checking all the plants, cleaning around picking around the withered leaves do you want to see my conservatory garden you can have a look at it.. here it is ....
I have got a few more this is just a sample.., they are not doing very well now especially my Doddapatre..:(
I had planned to bake a cake and got all the ingredients ready but everything got haywire, Once I started I couldn't stop picking around the kids clothes sorting out their rooms, trying to wake up my daughter asking her to get ready for her driving lessons, the time just flew, I remembered I had to do some shopping it is so cold, days are getting colder and colder walked down to a little town nearby to go to my favourite shop its a health wise shop I get lot of organic goods from there, I couldn't walk back as did a bit more shopping than I intended to and waited for the bus to turn up but incidentally it didn't turn up it was getting late and there was this kind gentleman who dropped us off near our house. Bless him, came home and had to cook something quickly as it was arrival time and they come home hungry.
I had some puy lentils which I had soaked earlier, and some thawed short cut pastry, this was quick one I could muster up right at the time they knock the door !!.
Here is how I stirred this up...

PUY LENTILS AND VEGETABLES HOT PIE
Recipe : own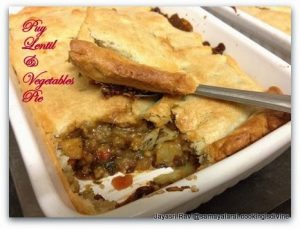 INGREDIENTS:
Short cut / Puff Pastry Block (use as required )
100 grms Puy Lentils
2 Onions
3 to 4 Garlic
1" Ginger
2 Cups of assorted vegetables
( Carrot, Green, yellow and Red peppers, Potatoes, peas, broccoli)
1 tsp Chilli powder
1/2 tsp Pepper powder
1 tsp Coriander powder
1/2 tsp Cumin powder
1/4 single cream
Salt as required
1/4 cup of grated cheddar cheese
2 tbsp Butter


Cook the Puy Lentils with enough water with little salt in a Pressure cooker.
In a large wok heat 2 tbsp of butter, add chopped ginger, garlic and onions saute them until they sweat and become soft and translucent to this add the  masalas chilli powder, pepper powder, coriander powder, cumin powder then add the cooked puy lentils and chopped vegetables add required amount of salt and close the lid and cook for few more minutes around 10 to 15 minutes until all the veggies get properly cooked to this add single cream and grated cheese mix well and switch off the stove.
Allow it to cool completely,
pour them on to a buttered dish,
take thawed short cut pastry or puff pastry cut them for the three buttered dish press them on to the dish make three slits and brush them with milk, bake them in a pre heated oven for 30 minutes to 40 minutes until you see the pastry nice and golden in colour.
doesn't it look good, for a winter evening a one pot meal.
Sending this off to Bake-a-thon event started by champa, here is entree...