PURSLANE & KALE FATAYER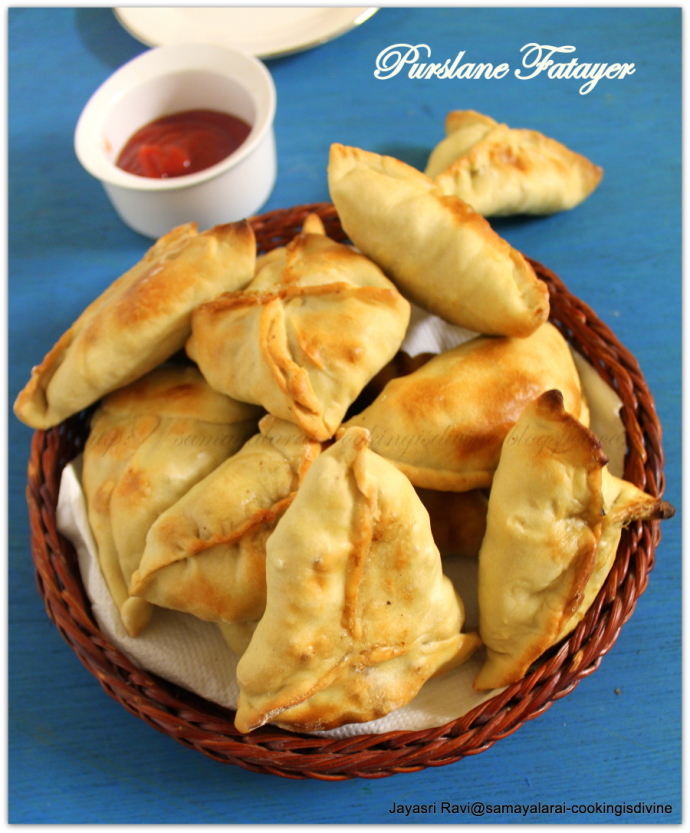 I came to find out that Fatayer (Lebanese savoury triangular pastries) is a Mediterranean street food, usually made with Purslane (Baqleh) and the one made with spinach called Fatayer bil-sabanegh and she says can be adapted to using any kind of greens we like.
I had started thinking what shall I bake, I had a busy day from past two days, came home late last night had a terrible headache and I was in no mood to bake anything, My baking or cooking always ends up with my kids coming back from school they come home look for something to eat, they love something like a snack, but I always prefer that they eat well, something healthy, always look for something good for them to gorge.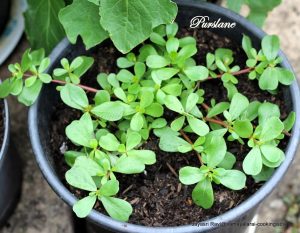 H got me this plant and I have been trying to protect it now as it is so cold in my conservatory, It grew very well in summer with beautiful leaves but I never used it. I was scared that it might die, this plant is grown everywhere in India it is commonly known as
Purslane
or
Verdolaga
, in Tamil it is called Paruppu keerai, in Kannada Dudagorai.  Basically it is a weed grown everywhere in India, It is still used in various cooking ways in India.  I still keeping looking for it everywhere here if I could find a bunch of it, As I was googling through I found out that they are very rich in Omega 3 fatty acids, and they are also rich in vitamin C, they are even used in medicine for treating cancer etc.., etc.., Just Google around to see more information on this plant.
I wasn't sure if I could grow it here, for the weather conditions, it seems Googling I have found out that it will be dormant and grows back, I don't want to take any risk so I keep it in my conservatory, not that it is looking any healthy now, fingers crossed it won't die on me.
I was searching for something new I could cook up from this plant, I was surprised to see a few ways now I can use it not only in the India way of cooking, when searching I found this recipe on Anissa's blog, I was in awe with her photography and loved I could try out something new.
I so found out that middle eastern cookery enjoy this nutritious weed, here is how I made it, I have adapted the recipe very much but tweaked it a little bit, as I did not how much my kids would love it, when ever I prepare something new I use what my kids like and see how it goes and then revert back to the original recipe.., kind of making them comfort with their usual food. This is how I made it...
PURSLANE, KALE, SPINACH, WATER CRESS AND ROCKET  FATAYER
Serves : 4
makes : 12 (depending on the size)
175 grms ( nearly 1 and 1/4 cup) of All purpose Flour
2 tbsp of Garlic Flavoured Extra virgin Olive oil
1/2 Cup of Purslane
2 Cups of Kale
2 medium sized onions
1 Cup of Water Cress, Spinach and Rocket
1 tbsp of Sumac
1 tbsp of Sichuan Pepper
1 tbsp Olive oil
1 tsp salt
Cheese (optional)

In a bowl take all the Ingredients under For the dough mix them well first, resembles like a crumbled cheese make a well in the center and  start from 1/4 cup of water making it into a dough, keep adding water until a firm dough is formed. Knead this dough until it is smooth and elastic and leave it in a bowl covered with a wet cloth until you make your filling ready. In a bowl wash drain and and chop the Greens roughly, to this add chopped Onions and all the other Ingredients listed under the filling mix them well thoroughly and leave aside. Preheat the oven to 450 degrees ( I preheated and baked my pastries on Gas mark 6 as my oven gets too hot).
Take the dough make 12 round balls and one by one, flatten into a disc place some filling on each disc lift two sides 1/3rd of the circle and pinch them together and lift the third side and pinch them like a triangle seal all the three sides with a thin raised inverted Y in the middle.
Be sure to seal the pastry well so they don't open up during baking, transfer them on to a baking sheet and bake 15 to 20 minutes according to your oven's heat.
Bake them until they are golden in colour and serve them warm or cold.
VERDICT:
The pastry was really delicious, my children loved them, they even told me I shouldn't have added the cheese!, Next time I can just stick to the basic recipe without my little tweak of adding cheese in it thinking kids would like it.
Do not use any cheese in this recipe and you will have a wonderful Vegan Savoury pastry to enjoy.