Hi friends, Hope you are all doing well, I have been on and off from blogging, as usual, too many things to do and completely busy with life and health seems to play around too, seeping when ever I am not able to cope up with situations, with all this weather too is changing now and then as it pleases.
I did not make to the challenge up until yesterday 10 days of Navaratri I just didn't want to use onion or Garlic, not that I am too superstitious, I just try not to cook anything with onion or Garlic Or I will see to it I won't eat it, So, I decided to leave it until after the festival.
I have already missed two of ICC challenges, One because of the sun and the next one because I did not have the right utensil, this was the easiest, simplest, delicious recipe. Tell me who would not like it, the whole family was all for it, I have made Kadi many times with veggies, but not with pakoras, It is something like I sometimes I put the dal vadai's in Morekozhambu.
Thanks Simran for this delicious recipe and thanks valli for making us to do this, I would not have made this dish at all if not for the challenge, as Pakoras we would have eaten just like that 🙂 right ?.
Coming back to the recipe..
I made this recipe just noting down the Ingredients and the method.
PUNJABI KADI PAKORAS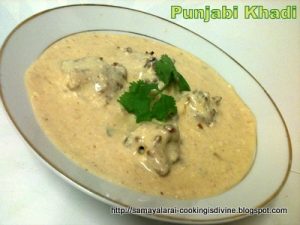 INGREDIENTS:
1 cup Chickpea flour
2 tbsp Rice flour (not in the recipe)
1/4 cup of Roasted Gram flour (not in the recipe)
2 Onions
1 to 1 and 1/2 tbsp of Red chilli powder
1 tsp of Ajwain seeds/carom seeds (not in the recipe)
salt as required
Oil for Frying
FOR THE KADI
3/4th Cup of Besan flour (chickpea flour)
4 Cups of water (extra water if needed)
3 cups of Yogurt
1 and 1/2 tbsp of Chilli powder
1 tsp Mustard seeds
1 tsp of Fenugreek seeds
1/2 tbsp of Cumin seeds
1 tsp of Ajwain seeds
1 Medium sized Onion
1 tsp Turmeric powder
1 tsp Garam Masala powder
1 tsp Amchur powder
salt as required ( say around 1 and 1/2 tbsp)
METHOD:
I changed the recipe a little bit, I wanted the pakoras more crispier and I didn't want them to soften up too much when soaked in the kadi, so I could munch on it :)) wicked isn't it ?, well I thought kids would love it that way.
I usually do not add water to the pakoras as Onions give out water of their own which is usually sufficient to make lovely crispier pakoras.
The White Onions which I get here in UK really gives too much water.
Chop the onions add salt and leave it for few minutes say around 1/2 an hour.
Meanwhile Mix water and Besan flour together without any lumps and yogurt and mix well and start heating in a low flame. Do not forget to keep stirring occasionally, otherwise you might end up having a burnt bottom, as it starts to thicken.
Meanwhile chop the onion, Heat a Kadai/wok with a 1/2 tbsp of oil add Fenugreek seeds, Mustard seeds, (watch out that the fenugreek seeds change colour to golden brown do not allow it to turn black), Cumin seeds, Turmeric powder when a nice aroma comes out add the chopped onions and a few Curry leaves and saute until they become transparent, then here I changed the recipe a bit I added Chilli powder, Amchur powder, Garam Masala and powdered Ajwain powder and sauteed it a little bit, then added this to the Kadi.
Mixed well and allowed to cook for a few more minutes in a low flame.
Meanwhile take a wok pour oil for frying the pakoras,
Check out the oil by holding your palm on top of the wok (of course not too close) you can notice that their is a warmness that shows that oil is getting heated up give it one more minute and drop the batter to make pakoras another method to see if the oil is ready to be used put a drop of the batter into the oil after 10 to 15 minutes and when it pops up to the surface immediately then it is the right time to fry.
As we had already left the onions to marinate with salt, water would have oozed out now add the salt as required, chilli powder and Ajwain powder mix well then add the Chick pea flour, until it becomes a thick batter, then take a spoonful or use your hands and drop it in small portions (say the size of small lime) and fry them until they are golden brown in colour. Drain them out on a kitchen towel.
Put these pakoras into the Kadi which is on the stove in a low flame increase it to a medium flame and now you would have noticed that the kadi is getting thicker and allow it boil for a few more minutes then put off the stove and allow it to soak well.
I made it quite thick because as Simmi was saying that Punjabi Kadi 's are thicker version and the thinner version are the Gujarati Kadi's.
Well, It was a wonderful dish and we all loved it, I had nothing left in my container that night.
Thanks Srivalli of Spicingyourlife and Simran of Bombay Foodie for this wonderful declicious recipe.