After the winter set in My kids pester me everyday that they want soup. I was telling my eldest that I can't make it everyday because dad doesn't like to have soup and bread everyday, he loves his rice!!, So, she wanted to make it clear, she went to him and asked what do you say ? soup, bread, and few cooked veggies, and with some finger chips or potato wedges!!, That is so british ain't it ?, very bristolian !!, well, funny when people in bristol have their own accent, ain't it ? for isn't it ?, Ta for Thanks, these words were so new to me when I came here, but I haven't picked them up, but, my kids have expecially my son !!, After coming here I see One English and people speak it in many different accents, Liverpool, birmingham, scotland, wales Oops!! i was amazed, and when i got to know about these, I remembered the film in which Prof. Henry Higgins says how can the british speak english in so many ways ? yes, The great film " My Fair Lady" (1964) I love that film and doesn't mind watching it now and then, My husband was not ready to watch it when my kids told him to, but, one day we were watching this movie when my hubby was sitting on the computer and doing his own work, we tried to lure him to watch the movie, and just gave it up, and then came this song where Higgins asks colonel pickering "why can't be a woman more like a man ?", well, that's he heard it and listened to the whole song, and loved it, and made us to rewind and watched the whole movie and thoroughly enjoyed it!! Men!, God! that's what (girls and me) we thought !!, so, said the girls to the man of the house!!.
PUMPKIN SOUP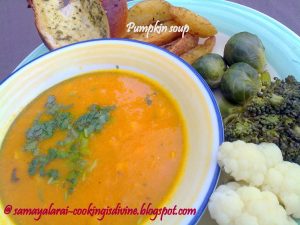 1 cup chunks of yellow pumpkin/squash/
2 garlic pods
a few sprigs of coriander leaves
1" ginger
salt to taste
1 small potato
corn flour (optional)
1/2" cinnamon stick
1 clove
1/2 tsp of pepper
1 bay leaf
pepper powder (optional/or to garnish or increase the taste to your requirement)
METHOD:
Cook the pumpkin, potato, garlic, clove, pepper, cinnamon stick and ginger in 1/2 litre of water until well cooked,
Drain all the water and keep it aside
Allow the veggies to cool then grind them into a smooth paste removing the bay leaf from it.
Then dissolve this ground paste in the water kept aside, and see if it too thick add little more water to the consistency of a soup, But if you like it thick you can keep it just like that.
If the soup is too watery take a tbsp of corn flour dilute it in water and add it to the soup to thicken it.
Totally Make the soup however you like, I have just given jist of ingredients which you can alter to your own taste.
Put it on the stove again and boil it with required quantity of salt,
serve it garnished with finely washed and chopped coriander leaves which is also optional,
You can add a dollop of cream if you like your soup a little bit creamy,
Add pepper which is also optional if you like it more spiced like my daughter and me!! we loved it that way.
Enjoy the hot soup with the bread of your choice, or with some croutons, or just plain.