Whenever I meet new people & make friends with them and when they come to know I am an Iyengar that's it, they always ask me if I know how to prepare Puliyogara & they always comment that nobody can beat the way Iyengar's make puliyogarai.   Of course, in all our celebrations, the functions would be incomplete without this dish. As I told earlier my father comes from Hassan District from a place called Bylahalli, even today during the chariot festival (Rathothsava) of Lakshmi Janardhana, In the night after Garudotsava, they give a palm (Bhogasae thumba) full of puliyogarai to everybody, Oh! it is such a pleasure to sit & eat it in the mid of the night!!.
This Recipe here I am writing down, I got it from my periyappa (Dad's elder Brother), who was known as Bhagavan mama to lot of people who knew him, he was a cooking contractor, he is no more, He was a such a great cook and his dishes always tasted absolutely fantastic.  Here is the Recipe. Do make it & enjoy the taste of it.  As we all love it too.
PULIYOGARAI or PULIYODHARAI (TAMARIND RICE)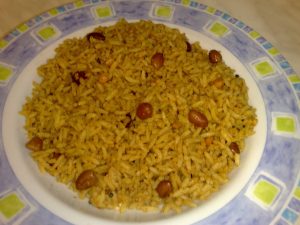 Ingredients for Making Puliyogarai Gojju or Pulikaachal or Tamarind Sauce Preparation:
1 fistful of Tamarind (tight fist)
1 fistful of salt
1 fistful of Rasam Powder
1 copra or Dry coconut grated
1/2 cup Black Til seeds/ kari yellu
1/2 Acchu Jaggery50 gms Dhania powder
1 tbsp of turmeric powder
1/4' of asafoetida piece
25 to 30 gms pepper powder (optional)
Seasoning:
5-5 Red chillies (Guntur-Badgi)
5 to 6 sprigs of curry leaves
3 to 4 tbsp of mustard seeds
METHOD:
First of all soak Tamarind in 1 to 1 & 1/2 tumbler of water, do not use too much water as you need to boil it and make it like a sauce. Extract the thick juice of tamarind, filter & keep it ready.
Take a deep wok or pan, it is very important to take a deep kadai because once the gojju or sauce starts boiling it splutters everywhere, so be Careful when stirring the sauce.
Take a deep kadai, heat 3 to 4 tbsp, add mustard seeds when they splutter then add red chilies, turmeric powder & curry leaves.
Now add the filtered Tamarind juice extract and allow it boil for few minutes over a low flame, do not add too much oil this also makes the juice splutter everywhere when it is boiling. Do not forget all the process should go on in a slow fire or flame.
Now add salt & Rasam Powder, asafoetida, and grated jaggery and keep on stirring over a low flame.
Dry Roast the till seeds (Til seeds should be cleaned before using them in any dish you are making) & grind it with grated dry copra add this & coriander powder to the sauce.
If you want it little bit spicy you can add 25 to 30 gms of pepper powder too!!
Keep on continuously stirring .
The sauce starts to thicken and when you are stirring the sauce should not stick to the container, just like when you make your Halwas when the mixture leaves the side remove from fire.
To Make Tamarind Rice or Puliyodharai:
4 to 5 tbsp of Oil (Gingely or Ground nut Oil)
1 tbsp of mustard seeds
4 tbsp of channa dal
3 tbsp of urad dal
100 to 150 gms peanuts
4 to 5 sprigs of curry leaves
4 to 5 tbsp of Black Til seeds
a pinch of turmeric powder
4 -5 Red chillies (Guntur-Byadgi)
METHOD:
Cook desired quantity of Rice, the above pulikaachal I have written is made for 1 kg of Rice and even the Tamarind Rice seasonings also is for 1 kg of rice.
Spread the rice on a parantha to cool.
Take a deep kadai, Heat oil add mustard seeds then add the peanuts once they start cracking up add all the ingredients one by one, cook in a low flame when the dals change colour switch off the stove.
pour the Tamarind sauce or pulikaachal over the rice, pouring is not the exact word as it will not be pouring consistency you can scoop the sauce on the rice and then pour the seasonings over it.
If you want you can add cashew nuts & Kadale Kaalu (Brown channa, the one which is used during Ganesha festival to make sundal!!) which should be soaked and fried can also be added to it.
Mix well all the ingredients and serve with carrot kosumbari (salad) or with Raitha or papads.
NOTE:
The above quantity of pulikaachal or Tamarind sauce is for making 1 kg of rice.
The Rasam powder if made fresh just for the sauce gives a nice good aroma for it.
The Rasam powder which I have used here is the one I make while I cook my rasams, the Rasam powder recipe is in my Masala powder posting.
The ingredients which I have used to make Rasam powder goes very well with this pulikaachal.
Do not make the pulikaachal or Tamarind sauce too thick as when it cools down it becomes too thicker.
This pulikaachal stays almost a year.
You can use more oil when you are making this rice.
I am sending this recipe to SWC-Meals on wheels as this stays longer than 2 days and will taste great the next day!!, The event started by Lakshmi from Taste of mysore.