Usha is a wonderful blogger with a lot of healthy recipes, I really wanted to try out her Barley recipes, I have tried some of her dishes and enjoyed it too.., I had posted one already, sometimes my photos are so ugly I don't like to post them, well I couldn't miss out on this as I follow her blog ardently and she is such a sweet person who never forgets to write to me and comment in my blog!, even though I don't comment in hers :).
I am always short of time, but I love to try out different recipes from different bloggers, My new way of book marking is now, writing down in a book all the recipes I love to try out. These days with kids hols computer is become a gadget which I see seldom!, When I keep asking for it and they being glued to it and lost in their own world never here a thing I say, I give up.
Coming back to the recipe, from few days I am enjoying a lot of Green leaves from my garden and from the shop which I bought in loads, I have yet to post some of the recipes I have tried out, Spinach was in abundant as my friend got me some from London. I was looking for something which I have never tried out, as I wanted to participate in T & T I first visited VegInspiration, so here is my Inspired recipe…..
PULI ITTA KEERAI / TAMARIND FLAVOURED SPINACH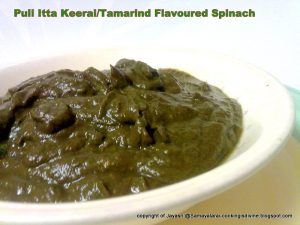 INGREDIENTS:
2 Bunch of Spinach
Salt as required
2 flakes of Tamarind
1/2 cup water
2 Green chillies
SEASONING:
1 Tsp of oil
1/2 tsp of Mustard seeds
1 tsp of channa dal
1 tsp of Urad dal
1 or 2 Dry Red Chillies
A pinch of Asafoetida
METHOD:
Take a heavy bottomed vessel and cup spinach, Tamarind and Green chillies in 1/2 cup water until well done, put off the stove and allow it to cool, Once it is cooled puree them all together into a nice paste.
Take a wok and heat oil then add one by one everything under seasoning, fry them until a nice aroma comes out, add this to pureed spinach mix well and serve.
Usha suggests this goes well with Poricha Kozhumbu, I served it with Poricha Rasam, as she says it goes well with it because we do not use Tamarind to this rasam and it is a great combination.
Adjust the spices as per your taste, and it is quite a yummy dish, I ate this next day with Chapatis and it was really good., Thanks for the recipe Usha.
This is an other recipe which I had tried out from Usha's blog some time back… try this out too and enjoy as I did..
AVOCADO PULKAS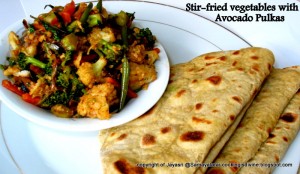 This was the softest Pulkas I ever made, I really enjoyed, I just tweaked it a little bit, she used spinach and Avocado both but I used only Avocado with this check out this link to get the recipe.
Stir-fried Vegetables with Avocado Pulkas
This is an other one which I tried, as my hubby loves More kozhambu, I really wanted to try this out, and I had book marked, I have used yoghurt and Tomatoes in my pacchadis. So, I made her version of Mor Kozhumbu with Tomatoes it was quite nice, Here is my post for that recipe……
MOR KOZHAMBU WITH TOMATO / BUTTERMILK WITH TOMATO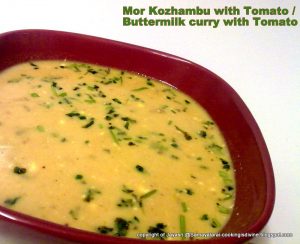 2 Tomatoes
2 Sprigs of Coriander leaves
2 Green Chillies
A pinch of Asafoetida
1 tsp of Cumin seeds
4 tbsp of Coconut
1/4 tsp of Turmeric
4 to 5 Cups of Yoghurt
salt to taste
1 tsp of coconut oil
1/2 tsp of mustard seeds
1/2 tsp of Fenugreek seeds
1 sprig curry leaves
2 sprigs of coriander leaves
Cook Tomatoes, turmeric until soft and mushy. Once it is well cooked, keep it aside until it is cool. Then grind these cooked Tomatoes, turmeric, green chillies, coriander leaves, cumin seeds, coconut into a fine paste using 1 cup of water. Then heat this mixture for few more minutes and starts thickening.
Then add thick Yoghurt mix well and put it back on the stove, lower the heat and allow it cook, add required quantity of salt, mix well, Keep stirring for few more minutes, you can see the bubbles forming around the corner of the vessel, then put off the stove.
Take a wok, heat oil and add everything under seasoning once the mustard splutters, fenugreek seeds change colour, add curry leaves, asafoetida and then chopped coriander leaves.
Mix well and serve it with hot rice with some nice Dry curry, I served it with Aloo curry as always.
We all enjoyed it, you try and enjoy this as we did
Thanks usha for all the dishes, stirred up from your kitchen to mine…..
Hope she likes it , Good day and see you soon…. take care….