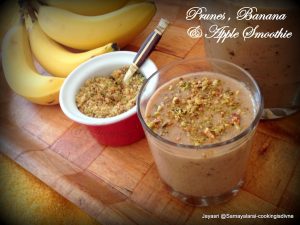 Hi everybody, I am very very Happy, Guess why, before that, I would like to first apologize to Radhika and Farah for not posting on time for my Blog Hop Wednesdays. I had written to them a while ago before the BHW that I would be posting a bit late, I was all alone, should I say Home alone for 3 weeks as my kids went off for their Hols, and I really did not know what to cook or bake and thinking about how I could live without them when they are not with me anymore!.
Well, after that every thing changed I couldn't believe that my Mom at last decided to come and visit us after all these years we had been pestering her to come and of course Dad wouldn't come so no question of asking him, She was not ready to come here all this way, a long flight and she wasn't going to come alone that was my big problem, she was totally scared, I have to thank my H who had the Lion share in brain washing my mom in coming alone, Thanks to him, I am really so happy..., at last one of my family is here, Kids are really thrilled and I have asked me to retire from the kitchen as they want their paati ( Nan ) to cook and feed them, as she is the best cook ever according to them and my cooking is OK!!.
Yes my Mum is here Yay!!, everything happened quickly, I had a very busy weekend till today :), I am more relaxed today mum is settled in and we all hope to enjoy her short stay here. After a long time we have a wonderful sunshine here for a few days, hope it continues.., All my friends, family & neighbours keep telling mum that she has brought sunshine to us from India.
Well, coming back to this recipe, I chilled and served this delicious smoothie, with a bit of twist and made it a bit healthy by adding some toasted nuts and flax seed. Thanks to both Radhika and Farah for an other smoothie, I have a few more I need to post.., I Chose this smoothie because of my Prunes, I had bought loads of prunes, so I am trying to use them in many ways, as my kids don't like to eat them as it is !!, using them in many ways is the only way I can think of using them.
I don't have to say for fellow foodies the goodness of smoothies.., A wonderful complete delicious drink to start your day..., keeps you energetic and a healthy one too.. what more do you need....
PRUNE, BANANA AND APPLE SMOOTHIE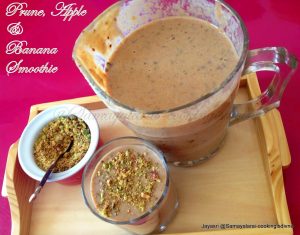 INGREDIENTS:
2 Bananas
3 Apples ( medium sized )
12 Californian Prunes
2 tbsp Flax seeds powder
3 tbsp of Toasted Nuts
3 Cups Milk
1/4 Maple syrup
few Ice cubes
I had toasted some nuts on pan, Almonds, Pistachios, Cashewnuts & Walnuts. I added 3tsp of Brown sugar for my kids smoothies as they wanted it a bit more sweeter.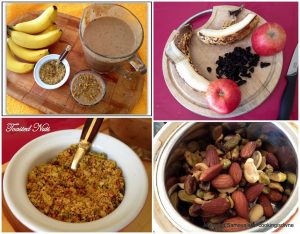 METHOD:
Blend Prunes, Flax seed powder and Apples ( peeled & cored ) until smooth then add peeled & chopped Bananas and blend again, Now add milk blend them well again.
Add Ice cubes and refrigerate for 1/2 an hour and serve them chilled topped with toasted nuts.
sending this to Radhika's Blog Hop Wednesday , Radhika had assigned me to Farah of A mum's Journal, she has a beautiful space, I enjoyed going through her blog, I usually love to bake something but this time I had to choose something else, just because of the prunes everytime I went to her blog, I kept going through this recipe again and again, I kind of get stuck with it. I added some apples with it, I had got exactly three of them and if I didn't use them I would loose them, as I was loaded with apples from my friend who came to say hai to mum!!.. So here is this lovely recipe, hope you like it and make it...
Sending this to Ayesha's cook eat delicious desserts - milk, started by Raven