who doesn't love potatoes, and I love cooking them with different recipes.
If there is one new recipe I certainly want to try it out as my kids and H love potatoes too much, and I found one here in Raks Kitchen, we all loved it I just made this with plain rasam, we also mixed it with rice and ate it. Thanks again Raji for this recipe.
POTATO CURRY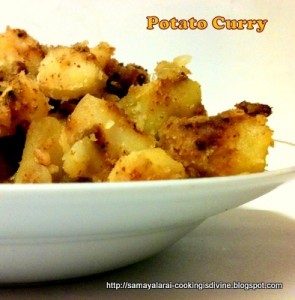 INGREDIENTS:
1/2 Kg Potatoes
2 to 3 Onions
2 to 3 tbsp of Coconut Oil
curry leaves
salt as required
water as required
TO TEMPER:
1 tsp Mustard seeds
1 tsp Urad Dal
2 tsp oil
TO ROAST AND GRIND:
1tbsp Coriander seeds
4 tbsp Coconut fresh
6 to 7 Red chillies
1 tsp Jeera/Cumin
1/2 tsp Pepper corns
METHOD:
Chop the potatoes into cubes and chop the onions keep it ready.
With a tsp of oil roast all the Ingredients under roast and grind to a powder and keep it ready.
Heat oil in a wok, add everything under temper, when they change colour add chopped Onions and fry them till transparent, then add the cubed potatoes into it mix well.
Now add the roasted powder and sufficient water, bring the stove to a medium flame, close it with a lid and cook until the potatoes get cooked as required amount of salt.
Keep stirring now and then so the curry don't get burned.
Once they are well cooked, allow all the water to evaporate, Garnish with coriander leaves.
Serve it with nice warm Rice or may be chappati.