Snake Gourd is long and tubular in shape looks like a snake, It is called Potalakaya in Telugu, Podulangai in Tamil, Paduvalakai in Kannada. Snake gourd is one of the tastiest veggies in the gourd family.
This is another dish which I learnt from my sister when I had been to her house during Christmas. I don't know, if it is a coincidence or that she would have already made it exactly on the day I go, This was the third time I had this in her house but never asked her what it was , I just assumed it was a kootu, but, she must have made it in a different method, I always forgot to ask her. After I came back home, I suddenly remembered after 3 days, that again I have forgotten to ask her, This time, I did ask her because I wanted to try it out and post it on my blog!!, well, I did not think I made as good as she did it, but, my hubby dear and children liked it, that is all that I wanted. Here is the recipe for Palu Kura, which my sis learnt it from her Mom-in-law.
POTALAKAYA PALU POSINA KURA / SNAKE GOURD MILK GRAVY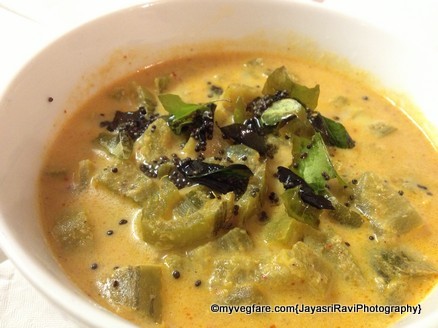 Ingredients:
1/2 Kg Snake Gourd
1 tbsp poppy seeds
1/3 cup Grated fresh coconut
2 green chillies
2 tbsp Rice
1/2 cup Milk
Seasonings
1 tsp mustard seeds
1tsp oil
1 tsp Cumin seeds
2 to 3 Chillies ( Green or Dry Red)
1 sprig curry leaves
METHOD
First of all soak rice and poppy seeds in warm water for an hour or so, Then cut the Snake Gourd into 2 halves take out the pith from it, if it is still tender do not throw them away, remove and keep it aside.
Cut each one into 2 halves and then into 2 halves again and dice them into 1/2'' piece, sprinkle a tsp of salt on them and leave them for an hour or so. My mother says you need to leave it like that because the bitterness gets removed from it.
After an hour drain out all the salty water from the vegetable wash it once , and cook the vegetable in a thick bottomed vessel with enough water for it to immerse and an extra cup of water, or in a pressure cooker for just one whistle, until they become soft, not too soft!, otherwise, they get mashed.
Grind soaked rice, poppy seeds and coconut, chillies,  into a nice paste.
Then add the above-said paste to the cooked snake gourd, mix it and allow it to boil for some time in a medium flame, stirring now and then, otherwise, it separates out into the water. Leave it for few minutes in a low flame.
Heat oil in a small pan put mustard seeds when they splutter add Green chillies or Red Chillies,( I used Red chillies) and curry leaves and fry for a minute or two and pour it onto the sambhar.
In the end, add milk and switch off the stove.
Serve it with hot Rice and upperi or Balka (soured dried Green chillies fried in oil) goes well with it.
It goes well with rice & chapati as well.
Note: Here rice is used to bring the thickness to the sambhar and one more thing is I cook my food little spicy so, always use Chilies as you require as the taste of chillies Green or Red vary, You would be the best person to judge how many you need!!!!.