Hi everybody,
Hope you all had a good week, so you can sit and enjoy your weekend, I had a hectic week, lots of things to do and in a rush :(, I am tired, but I couldn't resist sitting and blogging as I have to do this before they post their round-ups!, when I was browsing through I suddenly remembered I had seen this Idli event going on satya's blog!, I would have posted Idli's I have tried, then I have to start searching all my photos, Oh! my God! why do I do this all the time, and I remembered T and T my favourite event and it was from
Taste of pearl city,
I had been to her blog, and what a lovely looking blog she has got!, I love all her photographs, I wanted to participate in both the events, and their I noticed something very Interesting!, Yup!, Look I thought that's right ? I am going to participate in both the events, 'Two birds with one stone' can't hit a bird can I ?, so I will go with the Tamil Proverb 'Oru kalale erand Maanga'!
The Interesting part was these Idlis, she has a variety of Idlis (particularly the chocolately one!, check out!, chocolate and sweet lovers, I didn't show my daughter shhhhh.., will try it out someday!), so here is Polenta and Bulgar Wheat Idli to Satya's Twist the Traditional - Idli event.
Don't expect too much from me it is nothing compared to her clicks, check here for the beautiful clicks....
POLENTA AND BULGAR WHEAT IDLI
Preparation Time: 10 minutes
Cooking time: 12 minutes
Makes 45 Idlis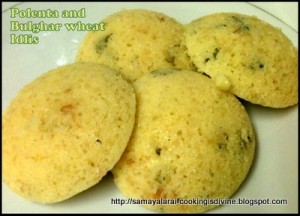 INGREDIENTS:
2 Cups Polenta
2 Cups Coarse Semolina
1 Cup Bulgar Wheat
1 and 1/4 tsp Eno Salt
1/2 tsp Turmeric powder
3 Cups Yogurt
2 Cups Water
1 and 1/2 tsp Salt
SEASONING:
1 tsp Mustard seeds
1 tbsp Urad dal
1 tbsp Chenna dal
1 tsp Oil
few curry leaves
few Coriander leaves
2 Green Chillies
1 tsp Cumin seeds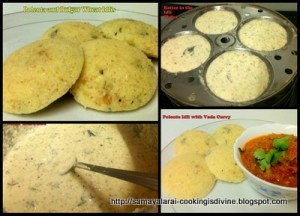 METHOD:
Oh! it's so easy, no need to ferment!
First of all take a nice broad vessel, add all the Ingredients as said above except for the Eno Salt, Mix them well together.
In a small pan heat oil then add Mustard seeds, followed by green chillies and then the dals fry for a minutes until they change colour, then add curry leaves fry for 2 seconds and then put off the stove and then keep the pan away from the stove so let it cool a little bit, Meanwhile wash and chop coriander leaves add it to the Idli batter.
Then prepare the Idli plates, Apply oil to the cups which makes the Idlis when cooked come out easily, do remember to do this every time you pour the batter into the Idli cups, which helps in taking the Idlis off easily.
Then add the seasoning to the batter mix everything well, Now add Eno Salt mix well together again, Pour a ladle full or whatever you are use to fill in the Idli cups.
Do not fill them to the Brim, give a 1/2'' Gap as you can see in the picture, when Idlis puff up they will not stick to the top of the upper plate, and also keep the plates in a criss cross manner that is the Cup should not come below an other cup but to the flat base (can you see the holes) right at that place this also helps when it puffs up the top of the Idli will have a flat roof!
Oops I don't know if I did explain it properly!
Anyways keep these plates in a cooker with 2 to 3'' of water, as Idlis are steam cooked, If you are using a Idli cooker then also do not forget to pour water in the bottom of the vessel, Close the cooker lid and do not put the weight on it just leave it as it is, In a medium flame cook the Idlis around 12 to 14 minutes (by that time water will get evaporated so be careful to note down the time).
Switch of the stove, give it a minute or two then open the lid you can see the steaming hot Idlis take them out and keep aside for 5 minutes for them to cool down a little bit, If you want to serve immediately (as I did at 10:30 in the night, kids complaining of hunger) take each plate turn it upside down pour some cold water or hold it below the tap for a few seconds(careful don't soak the Idlis!).
Idlis come off easily they still will be hot, Serve Idli with Molagapodi, Chutney podi, Sambhar or with Vada curry, look out here I will post the reicpe soon...
My Verdict: Idlis, turned out so soft and beautiful, nobody new I had used Bulgar wheat in it!, H kept asking what did you use in this ( of course I told him). we all enjoyed it thanks to you for this lovely recipe
Can't serve it you, but you can always make it right ? take another peek at my lovely Idlis.....
Sending this to Satya's Traditional with a Twist- Idli event, (Hope she accepts my late entry) and to T and T of zlamushka's now hosted by Kitchen Chronicles, Guest hosted by Oh Taste and see (hoping she will also accept my late entry)