This month
Kalyani
gave us the two
Magic Mingle
Ingredients, when she announced I was a bit worried and wondered how will I incorporate these two together as we all loveeeeee Cucumber but Walnuts Mmmm....?, how will I , My kids are not very interested in consuming them even though I keep telling them it is good for your heart.., Teenagers not an easy task to please them..,
The best thing was my kids when they came to know about my combo they immediately said Mum no bread , Cake or Muffin no sweet Pleaseeeee.... Ok! I had to put my thinking cap on and started to think day and night :)), that's a bit too exaggeration right ?.
You will not believe I made four dishes out of it and actually we all totally enjoyed it.  This was one such dish which I started with a quick, delicious and healthy Breakfast what else do you need to start your day with..Flattened Poha does not need pre soaking as they so flattened, which is used for making Chivda, they absorb everything quickly.
This is a quick breakfast which I used to have when I used to go to Sringeri around Malnad in my friends house. They make different varities in this, May be some day I will post them all.
POHA WITH CUCUMBER AND WALNUTS
Serves 3
Preparation time 30 minutes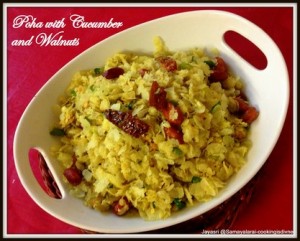 INGREDIENTS:
1 and 1/2 cup Flattened Poha*
3 tbsp of Oil
1 fist full of Peanuts
1 tsp channa dal
1 tsp Urad dal
1/2 tsp mustard seed
1 sprig curry leaves
3 tbsp of freshly chopped Coriander leaves
Salt as required
2 tbsp Lemon juice
1/2 Cup Grated Cucumber
Grind together:
fist full of Walnuts
3 tbsp of dry Coconut (copra)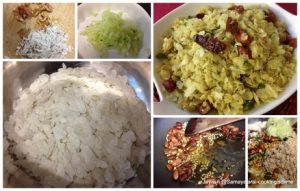 METHOD:
Grate Cucumber and keep aside, Chop Coriander and keep aside.
In a Pan dry saute walnuts for a couple of  minutes, when it cools down, Grind it with grated dry copra into a coarse powder do not grind too much it will become sticky as the walnuts release oil of their own. Keep them aside.
In the same Pan heat oil add all the seasonings one by one in a low flame, Mustard seeds after they splutter add Peanuts and saute them when they start crackling add the dals and fry for few minutes when they change colour, add curry leaves and switch off the stove give a quick stir and add this to Poha then add the Grinded walnut and copra powder add required amount of salt and Lemon Juice then add grated cucumber to it.
Mix well and serve it immediately.
Do not leave it for a long time, it becomes a bit hard..
Enjoy...
will post the other recipes soon.., stay tuned in....