Hi everybody, I am with an other post sitting late in the night and writing is my new avatar, Mum is wondering what is happening to me, still I am behind schedule, she doesn't like this at all, she keeps arguing why I should do this not properly sleeping and eating on time, by month end I will be all alone sitting with my computer and eating whatever is available on hand, No more three course food , No more hot food ready on the table when I come back home :(, I know I will be missing all these things soon, My Mum will be back home,I have already started missing her, she is all ready to go back, she is getting scared of the cold nights.
The wind and the cold wind blowing is making her get more and more worried.
I also feel happy when she is back home to the warm weather and I know where she will feel safe and stay more healthier, Sun does makes lot of difference right ?
When I made these mum was as surprised as my hubby that I made chutney out of a fruit. I think she has got used to my Extra - Ordinary Creativeness!!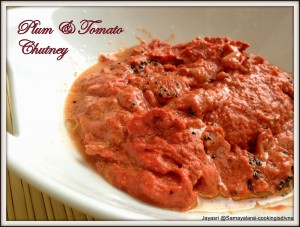 Well anyway, let me not get you bored with my problems, and talk about this lovely chutney I made. When Kalyani announced, this month's Magic Mingle, which is hosted by Vaishali this month, announced two ingredients which we need to come up with in our cooking they are Fenugreek (Methi) and Coconut.
These are two are my favourite ingredients, but joining these two in a dish is a bit of a problem. So, wearing my thinking cap I have been wondering, when I was making Dosa, Mum was asking me what chutney should she make for it, I was telling her I will make the chutney, and started looking around and my eyes fell on the Plums, I had bought some plums to eat, and they all got ripened very quickly, so I planned to make chutney out of it. Here is how I made it...
PLUM AND TOMATO CHUTNEY

INGREDIENTS:
8 Plums
2 Tomatoes
2 flakes of Tamarind
First full of Channa Dal
3 tbsp Fresh coconut
1/2 tsp Fenugreek seeds
7 to 8 twigs of Coriander leaves
6 to 7 dry Red chillies
1 twig Curry leaves
1/2 tsp Mustard seeds
2 tsp Coriander seeds
1 tsp salt ( or as required )
1 tsp Oil + 1 tsp Oil
SEASONING:
1 tsp Oil
1 tsp Mustard seeds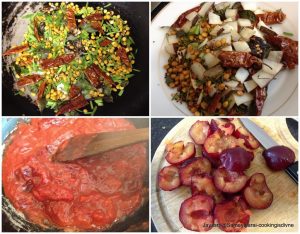 METHOD:
In a pan heat a tsp of oil, add mustard seeds and fenugreek seeds, when the mustard seeds splutter and fenugreek seeds change colour to golden brown,
Add coriander seeds saute them with channa dal and chillies once they change colour,
Add Tamarind flakes and coriander leaves and saute,
Add chopped coconut pieces and saute for an other 2 minutes Remove them on to a plate and allow it to cool.
Cut open the plums remove the seeds and chop them into pieces and also chop 2 Tomatoes.
In the same pan heat a tsp of oil, add chopped plums and chopped Tomatoes and saute them for 2 minutes, close a lid on to the pan and allow it to cook.
Once they are well cooked, keep sauting until water in it drains out, it will not drain out completely though.
Grind the Dry Ingredients that is kept in the plate for cooling, into a coarse powder with salt first then to this add the sauted and cooled cooked plum into it and grind them into a smooth paste.
Adjust salt, In a pan heat oil and mustard seeds when they splutter add it to the prepared chutney.
Serve and Enjoy with your choice.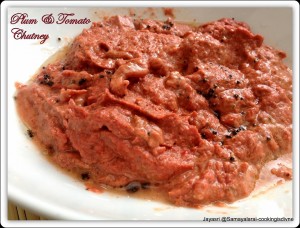 It had a wonderful colour and was very delicious to eat, especially my kids loved it. you try it and let me know. This goes to Magic Mingle #10