Rasams
are a part of south Indian cooking, they are quite healthy and gives a very refreshing feeling after a very heavy meal or if you are out from sickness. It is must in our everyday cooking, it accompanies with lot of other dishes, with a tsp of ghee, it is heavenly. It is usually served with plain rice and tsp of ghee and accompanied by dry curries, koshambaris or papads. You can even drink rasams like soups, The pepper-cumin seed rasam is used just like that if you are sick with cold and cough with a touch of ghee in it, helps and soothes your body.
Rasams are usually made out of dals and lentils, with Tomatoes and Tamarind for the tanginess and with all the exotic, aromatic and medicinally valued
Indian Spices
. There are so many different kinds of Rasams these days with all sorts of ingredients, veggies and fruits. I feel this one gives you an exotic touch to your rasam, as I love pineapple in any form, The sweetness and tanginess gives it a lovely flavour and a good taste too. This is one of the rasams which has a sweet taste in it.., without adding sugar or jaggery to it, very easy to make and very tasty too.., Here is the procedure to make this lovely rasam, Here in this rasam Pineapple is used instead of Tomatoes.
PINEAPPLE RASAM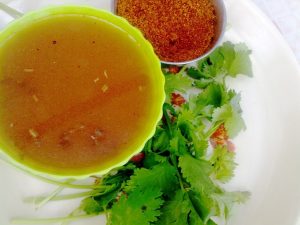 Ingredients:
1 cup pineapple
1/2 cup Tuvar dal
3 to 4 flakes of tamarind (marble size)
1/4 tsp of turmeric
1 & 1/2 tbsp Rasam powder (of your choice and as required according to your taste)
3 to 4 sprigs of coriander leaves
1 sprig of curry leaves
salt as required
Seasoning:
1 tsp of oil (or Ghee - Clarified butter)
1/2 tsp of mustard seeds
1/2 tsp of cumin seeds
METHOD:
Cook the chopped pineapple pieces in 2 to 3 cups of water until they are done, Meanwhile pressure cook tuvar dal with turmeric in a cup of water till soft and keep aside.
soak tamarind in warm water and squeeze the juice out of it.
In a vessel with a cup of water allow the tamarind extract to boil so the raw smell of the tamarind disappears then add rasam powder allow it to boil, then add the cooked tuvar dal let it keep on boiling
Meanwhile take the cooked pineapple into a sieve with the water and squeeze all the juice out of them and discarding the pulp.
Add this pineapple extract to the juice and allow it to boil for very few minutes in simmer, keeping the flame low, so that the pineapple absorbs the spices and everything in the rasam
Meanwhile in a small kadai heat oil and add the seasonings, add this to the rasam, garnishing with chopped coriander and curry leaves and allow it to stay on the stove for another 2 minutes, put off the stove and it is now ready to served with rice and a dollop of ghee or drink it just like that.
I have mentioned about
Rasam Powder
, you can use even the store bought ones available in Asian shops or you can make your own, Here is one quick recipe for making a rasam powder
1/2 tsp pepper corns
1 tsp coriander seeds
1/2 tsp cumin seeds
1 tsp Bengal gram dal
1 tsp Tuvar dal
4-2 Red chillies (Guntur-Badgi)
1/4 tsp asafoetida
4 to 5 curry leaves
1/4 tsp turmeric powder
METHOD: Fry all the ingredients mentioned above except for cumin and turmeric powder, with a 1/2 tsp of oil and when cool grind them into a powder with cumin and turmeric powder, add this to the rasam making it into a paste or use it just like that.
FEW TIPS:
Tamarind Juice : For a quicker method, You can just warm it in a microwave for a few seconds and can squeeze the juice immediately. Discard the pulp and seeds if any. (These days you can buy tamarind which are quite cleaned without any seeds and other things in it ).
After adding pineapple do not boil Rasam for a long time it might turn very sour