Hello everybody, Hope you are all doing well, Yes it's Monday, I think some of us suffer from Monday blues right ? well, not for me :), definitely at least once a month I am very excited, happy and curious why ? why ?.., Wondering how come I don't feel it, lots of things and once in a month it is definitely something I truly enjoy it is just because of SRC!!!..., Yup!, It is
The Secret Recipe Club
reveal day today.., isn't it fantastic...
Every month the Second Monday is SRC time..., and you will definitely see a post from this blog..., Coming to today's post..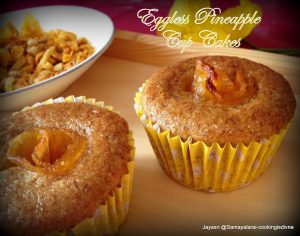 My hostess Suzanne who assists Amanda our Founder for this club assigned me to this blog by
Sarah 's blog biking and baking
, Basically Sarah has brains, beauty, creativity and passion and etc..,, She is beautiful young woman, being a doctor, loves biking and baking :)), You can find loads of vegetarian and vegan recipes in her blog, Yup, you are right , I had a tough time choosing what to try out.., though I don't have neither beauty nor brain but just the passion for baking, I seem to always get attracted to bakes in everybody's blog had a lovely time going through so many of her recipes, She even talks about nutrition and healthy aspects in her cooking and baking, going through her blog one thing I kept went going back to..., it was this recipe, you might wonder what's so big deal about it.., well, everybody has a weakness and I have this weakness for pineapple, I always bake Pineapple pastry and enjoy it so much, I used to buy pineapple pastry even in India, before I was baking on my kids B'days, My kids love it too.., My twins have already told me I have to bake a pineapple pastry on their birthday as I made one for my eldest !!, I know every one of us is crazy about this fruit.., and at last now you know why I chose this recipe.., It was not just the recipe but those pineapple flowers she had made attracted it more..
The next thing was talking about the spring and sunshine, even though we have not got our full dose of summer here, now and then the sun peeping through the black clouds and reading through the recipe about the morning sun, run,shine and these pretty cup cakes with a little reddish yellow and the beautiful tasty flowers will definitely diminish the Monday morning blues out of your mind... make it, taste it and enjoy it.. Thanks
sarah
for this lovely recipe and thanks to our
SRC Hosts.
Check out her blog for the original recipe of these
Pineapple cup cakes
., as I changed a few things as I did not know where to find Earth balance products, as this was a Eggless recipe I could easily adapt, I changed the flour, you can use completely plain flour instead if you are going to try my recipe.
PINEAPPLE EGGLESS CUP CAKES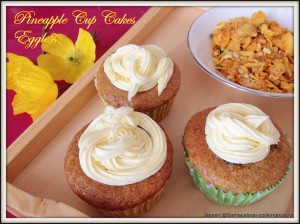 3/4th (96 grms) Cup Plain flour
2 tsp Baking powder
1 tsp Baking soda
pinch of salt
1/2 Cup Sugar
2 Apples (181grms without peels 169 grms without the pith )
1 tbsp Vinegar
1 tsp Pineapple flavouring
1 tbsp Flax seed powder
3 tbsp hot water
1/4 Cup Milk
1/4 to 1/2 cup Pineapple juice
Ingredients for Making flowers
1/4 Cup Sugar
1/4 Cup Water
12 Pineapple rings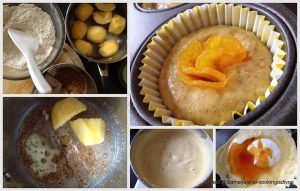 To Make Pineapple Flowers
First of all we need to make these pineapple flowers, Using a cookie cutter cut pineapple rings just like shown below or you can even buy ready made tinned pineapple rings cut these rings into 1/4'' slices ( I mean not too thin not too thick slices ).
In a bowl take 1/4 Cup Sugar and 1/4 Cup water and allow it boil when it is boiling add 3 Rings at a time and cook it for 2 minutes then carefully remove it on to a baking parchment do this for all the rings.
Bake these rings in a oven at Slow cook mark that is below Gas mark 1, it took 1 and 1/2 hours for me to make these beautiful rings.
Remove them from the oven and allow it cool.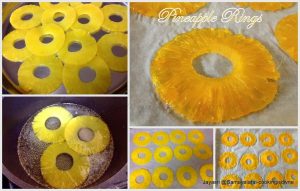 To Make Pineapple Cup Cakes
Preheat the oven to Gas Mark 2 ( Sorry I don't heat the oven to the original temperature),
Line 12 Muffin tins with cup cake liners, spray some oil or you can just leave it as it is ..
Measure the flours ( Plain and
Rye
) to this add, Baking Soda, Baking powder and salt, sift them well combined and keep aside
Peel, core and chop the apples, put them in a bowl of water with a tsp of sugar so they don't change colour.
Take 1 tbsp of Flax seed powder with 3 tbsp of Hot water then add apple pieces, vinegar and milk blend them all in the mixie / food processor it turns into a smoothie kind of consistency.
( if you had not added vinegar, it would have become a fantastic smoothie !!)
In a large bowl, add this smoothie, to this add sugar,
Sweet Freedom
and mix well until well blended, to this add the sifted flour, until well incorporated.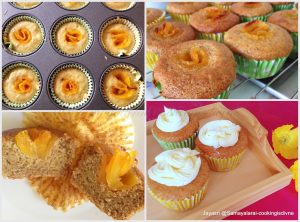 Pour this batter into the cup cakes 3/4 th, take a pineapple ring, twist into a flower like and insert it into the batter.
Bake these cup cakes to 25 to 30 minutes, or until a skewer inserted comes out clean.
Remove these from the oven once baked, when it is still hot spoon pineapple juice into them so they would observe it quickly, take them out of the muffin tins and cool it on a wire rack.
If you want you can top it with Butter cream frosting or just eat it ...
Yummm yum yum.....
Hope you enjoy it as we did....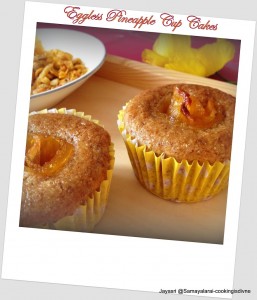 Check out all my other blogger friends who are joining me in this challenge.....