Thirunalvelli halwa da, Thiruchimale koteda, Thirupati ke laddu thanda saamidaa, unnakke naambo sapdrdakk panni kuduthome paathiyaa, aapdi an solraa yen ponnu!!, just kidding mum!!, howzthis ?, You Saw the Starter and Main course from my daughters creations, Now this will be my the last two of their creations for that day, I am posting the side dish and the dessert especially my eldest daughter created!!. I did not know what to call it so I just decided I will call it a dessert.
You must be wondering what those words in Tamil are, My second daughter is a lovley girl, and always keeps making jokes, so, that day when we all sat and ate she wanted to tease me these are the words she told me, As it is in Tamil, taken from a film called Saami, what it says is Thirunallvelli is famous for its halwa, Thiruchimale has a firm fort, and of course everybody knows that No laddu can beat Thirupati ladoos!!, she was teasing me saying all these things that If I think myself a very good cook, and nobody can cook like me, just see how we have beat you to it!!. Ooops that was a cool one right ?.
This perfect roast potatoes was especially created my second daughter because she is just mad after eating potatoes, and she was convincing us all that it was a perfect side dish.
PERFECT ROAST POTATOES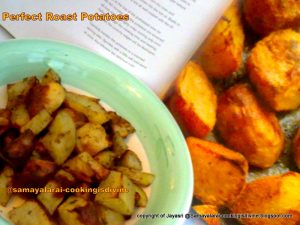 INGREDIENTS:
1/2 Kg cut into cubes (choose from floour potatoes such as King Edward, Maris piper or Desiree – peeled and cut into even sized chunks.
3 tbsp Olive oil
2 to 3 cloves of Crushed garlic
few sprigs of Thyme leaves
1 tsp of powdered pepper
METHOD
Preheat the oven to 220 degrees/Gas Mark 7, Bring in a large saucepan of salted water to boil, add the potatoes and cover and cook for few (5 to 7 min), they will still be firm , Remove from the heat.
Meanwhile take oil in a cup nicely mince the garlic, pepper and thyme and mix them well with oil.
Drain the potatoes, On the stove top take a Roasting tin or Sauce pan add the infused oil add the potatoes, mix them well and cover with a lid and shake it now and then so that the surface of the potatoes is roughened, to help give a much crisper texture.
Remove the roasting tin from the oven and carefully tip the potatoes into the hot oil. Baste to ensure that they are all well coated with the oil.
Roast at he top of the preheated oven for 45-50 minutes until the potatoes are browned all over and thoroughly crisp, turning only once halfway through the cooking time and bastng, otherwise the crunchy edges will be destroyed.
Carefully transfer the potatoes to a warmed serving dish, Sprinkle with a little salt and serve at once.
I was monitoring them as it was involving oil and oven.
This Dessert was created my eldest daughter, she loves to create the desserts and always encourages me to bake and create them, not that I do a lot!.
————————————————————————————————————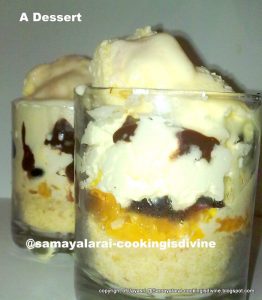 I had made Some short breads few days back and my second daughter had made a sponge cake in school, she powdered both of them together and placed them in the bottom of 7 glasses, she took 1 cup of pineapple juice and poured 4 to 5 tbsp of it on the biscuit base, then she used some fresh Tangerines & Cherries with seeds removed and spread them on top of it, then she used 300ml of whipping cream with 3 to 4 tbsp of Icing sugar and whisked it until soft peaks are formed and poured it on top of the fruits, then she melted chocolate with a tbsp of butter and a tbsp of Icing sugar in a double boiler method ( I helped her!) and she poured them on top of it, then she scooped Vanilla Ice cream on its top and served it chilled!!
Ooops that was quite an explanation for me to write, as my friend who visited us doesn't like eggs, Aishu chose this dessert so all of us would enjoy.
It was quite a dessert with different flavoours in it, everybody fisnished it of, thanks girls for the lovely treat, lots of love from your mum………..
Hope you all enjoyed my girls cooking………
c u soon with more recipes…. have a good day!, take care……